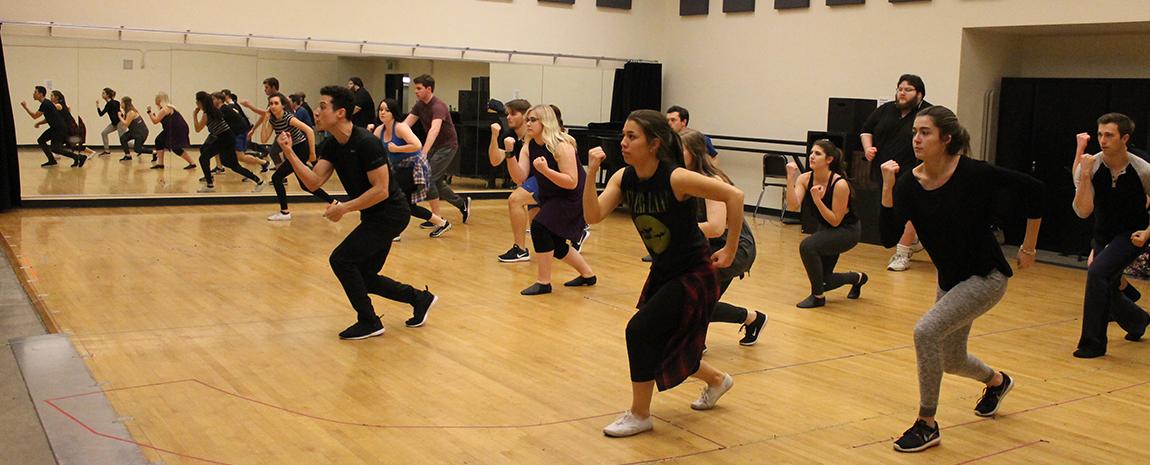 Master Classes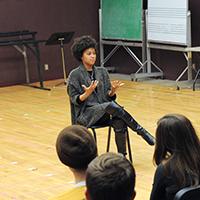 Thanks to a partnership between ASU Gammage and the Herberger Institute, professional cast members from almost every ASU Gammage touring Broadway musical teach students a variety of skills from audition techniques to dance numbers. 
Cameron Burke, who plays a swing in the Tony Award®-winning tour of Matilda the Musical, taught a workshop for ASU students this past spring. 
"I feel like every single artist who comes in here and is willing to share with the school their life experiences and what they've learned on their journey—that's what I come in here for mostly," said Jennie Rhiner, a senior musical theater performance student who has participated in several ASU Gammage Master Classes over the past four years.
The Master Class Experience
ASU musical theater performance students shuffled into a small dance studio in the basement of the Herberger School of Music. The mirrors lining the rooms' walls reflected the glossy wood dance floors and a large, black grand piano in one corner of the room.
The students dropped their backpacks in a large pile in the back of the room and sipped on bottles of water. They were comfortable in the little studio, their second home. One student began to play the piano as another began to stretch and dance.
Cameron Burke called for their attention and after a quick warmup, taught the students the same choreography used in the musical for the song "Revolting Children." He broke the movements down into groups of 8-counts. After the students had mastered each sequence, they weaved the movements into a complete performance.
Burke explained the importance of the sharp movements and stomps that characterized the dance's powerful tone. 
In Matilda the Musical, this song marks the point at which the students rebel against their cruel and oppressive principal, the ominous Miss Trunchbull. The strength of their movements represents the strength of their revolt against tyranny.
By the end of the hour-long class, Rhiner and her classmates were expertly following along to the dance Burke led. After the students had mastered the choreography, Burke invited the group to ask him questions about his career and advice for finding success in the industry.
Rhiner said experiences like this enrich her education at ASU, especially because each Master Class focuses on developing a different skill.
"It encourages you to participate and make sure you can communicate with the professional," she added. "And it teaches you to step up, ask questions, get your name noticed — it helps you practice that because marketing, especially in this degree, is so important."
Educational Objectives
Rhiner's instructor, ASU School of Music lecturer Toby Yatso, agreed that ASU Gammage Master Classes provide an invaluable experience for his students—they build new skills while meeting new people in the industry.
"Every time we have one of these opportunities, we're trying to elevate both of those experiences for the students," Yatso explained. "They're working on their body awareness, they're working on technique, they're working on style that is currently being used in the musical theater industry and getting to practice that with someone who is an expert at it."
Many musical theater programs strive to have guests because they can diversify artists' perspectives and teach new techniques, he said. After each Master Class, his students can add another successful Broadway performer to their network.
"So much of this industry, in musical theater especially, is about networking and it's about having trusting relationships with people that you know and respect," Yatso added. "A lot of it is who you know."
Over the course of his students' four years at ASU, he aims to help them reach new skill levels and explore different techniques. Allowing them to participate in Master Classes helps Yatso achieve this objective.
The Broadway Perspective
Burke said he was happy to share his experience with the next generation of musical theater performers and show them that their dreams are attainable. Artists form a community with a long tradition of passing on knowledge, he said.
Working with ASU's young performers, much like working with the child performers in Matilda, is inspiring because young people have no restraint and incredible imagination, he said.
As a swing, Burke is responsible for knowing the lines, choreography, lyrics and blocking for all male ensemble roles and is on-call at all times. Sometimes he is called to fill-in for a role mid-performance.
"I have a great advantage to teaching the (Master Class) because as a swing, I get to see the show from all angles. I process a lot of things in a different way," he explained.
"The show is so relevant right now," Burke said. "It's important that it is shared."
Past Master classes
Master classes
ASU Gammage's Cultural Participation department arranges master classes for the ASU community throughout the year. For more information contact us at 480.965.5062.
2008-2009
THE LION KING- Dance, Puppetry, Musical Theater, Techincal Theater Master Classes
HAPPY DAYS- Audition, Stage Management Master Class and Q & A
THE PHANTOM OF THE OPERA- Advanced Expression Master Class
2009-2010
LEGALLY BLONDE- Advanced Expression Master Class
CATS!- Acting Audition & Technical Theater Master Class
2010-2011
HAIR!- Technical Theater Master Class
SPRING AWAKENING - Voice and Speech Master Class
YOUNG FRANKENSTEIN - Broadway Movement Master Class
2011-2012
AMERICAN IDIOT- Q & A
BLUE MAN GROUP- Drumming workshop
SOUTH PACIFIC-Auditioning Master Class
STOMP- Body Percussion/ Drumming Workshop
WHITE CHRISTMAS- Dance Master Class
WICKED- Technical Theater Master Class
BEAUTY AND THE BEAST- Vocal Master Class and Q & A
2012-2013
LES MISERABLES- Q & A
PETER PAN
WAR HORSE - USITT Tech Master Class
BLUE MAN GROUP- Drumming Workshop
2013-2014
EVITA
THE LION KING
PRISCILLA QUEEN OF THE DESERT- Dance Master Class and Q & A
ONCE
PORGY AND BESS
2014-2015
JERSEY BOYS- Vocal Audition Workshop and Q & A
PIPPIN- Dance Master Class
CINDERELLA - Dance Master Class
WICKED- Q & A
2015-2016
THE BOOK OF MORMON
A CHRISTMAS STORY
IF/THEN
THE BRIDGES OF MADISON COUNTY
A GENTLEMAN'S GUIDE TO LOVE AND MURDER
42nd STREET
NEWSIES
2016-2017
CABARET
THE SOUND OF MUSIC
BEAUTIFUL
MATILDA
FINDING NEVERLAND
AN AMERICAN IN PARIS
THE BOOK OF MORMON
THE CURIOUS INCIDENT OF THE DOG IN THE NIGHT-TIME