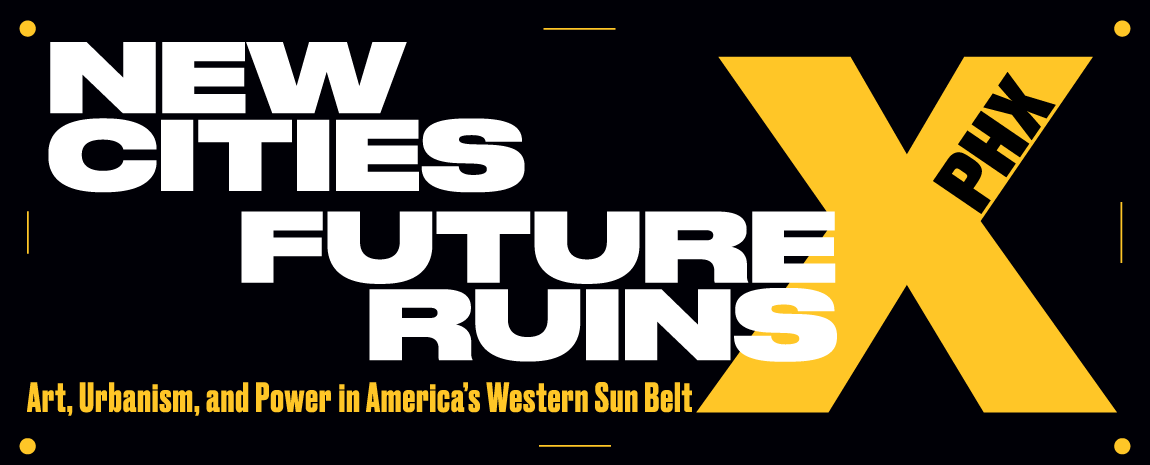 New Cities Future Ruins X Phx
Art, Urbanism, and Power in America's Western Sun Belt
November 1-2, 2017 | Arizona State University
How can art affect change in a 21st-century metropolis? 
NCFR x PHX is a convening bringing together artists, designers, urbanists, and community activists whose work engages this pressing question. It launches the second phase of New Cities, Future Ruins, a multi-year arts initiative that will present artist residencies and public projects in cities across the Western Sun Belt, including Phoenix.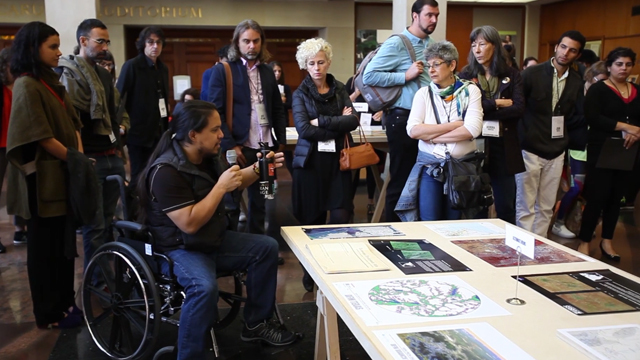 NCFR x PHX will feature local speakers from ASU and Phoenix alongside national and international voices, exploring key themes like:
• Creative Placemaking
• Cultural Place keeping in an Indigenous City
• Sprawl and the Challenges of Intensive Growth
• Global Exchange in an Age of Rapid Urbanization 
Schedule
November 1
2:00 p.m. - 4:00 p.m. | Tour of Central City South Phoenix - Eva Olivas, Executive Director, Phoenix Revitalization Corporation
5:00 p.m. - 6:00 p.m. | Tonatierra Center; Discussion - Evie Reyes-Aguirre, Executive Team Member
6:30 p.m.- 8:00 p.m. | Reception, The Sagrado Galleria – Sam Gomez, Owner, Curator
November 2
8:30 a.m. - 9:00 a.m. | Breakfast (ASU Memorial Union, Room 236 Mohave)
9:00 a.m. - 12:30 p.m. | Various Speakers - ASU Memorial Union, Room 236 Mohave).
12:30 p.m. - 1:30 p.m. | Lunch
Convening registration is now closed
---
New Cities, Future Ruins is lead by Artistic Director Gavin Kroeber. The founding partners in the initiative are the SMU Meadows School for the Arts, ASU Gammage, and the UTEP Rubin Center for the Visual Arts.

Featured speakers include:
Merve Bedir
Merve graduated from Department of Architecture I METU, in 2003. She was involved in a variety of projects in Turkey, Egypt, Georgia until 2008. Since then, she has been conducting her PhD on behavior and consumption, in Faculty of Architecture I TUDelft, where she was involved in projects about urban regeneration and reuse in Salzburg and Copenhagen. She has several publications about urban transformation, sustainable development, and user behavior and energy consumption. She was a freelance curator for the Netherlands Architecture Institute in 2012, where she made two main projects on reuse of buildings and urban transformation in Turkey.
Jenea Sanchez 
M. Jenea Sanchez was born in Douglas, AZ in 1985. After receiving her MFA from Arizona State University in 2011, she returned to Douglas to teach high school Graphic Design and photography at Cochise College. She and her husband opened a coffee shop, Galiano's cafe that is dedicated to a healthy lifestyle and the promoting the arts. Most recently they are heading an organization, Border Arts Corridor (BAC) which is platform for creative expression and provides the borderlands community an immersive, arts district through bi-national artwalks, film festivals, workshops, performances, public dialogues and artist residencies.
Tonatierra 
On October 3, 1977 the first large scale strike by undocumented workers in U.S. labor history began at the Arrowhead Ranch, located in the East Valley community north of Tolleson, Arizona. Despite strike breaking efforts of the Border Patrol, the predominantly Mexican national workers persevered in their efforts to negotiate formal contracts with the powerful growers. Supported by the Maricopa County Organizing Project (MCOP), the courageous efforts of the Arizona Farmworker movement left a legacy of struggle, organizing under extreme adversity, and belief in Human Dignity that continues till today.
Upon being called to participate in 1990 at the First Continental Encounter of Indigenous Nations, Pueblos and Organizations which took place in Quito, Ecuador, the trajectory of development for the organization was thrust into a continental scope of responsibilities and commitments. In 1994, MCOP made the organizational transition into the Indigenous Peoples community empowerment movement TONATIERRA. Since then, TONATIERRA has effectively engaged with the Original Nations of Abya Yala [the Americas] in establishing the Nahuacalli as an Embassy of Indigenous Peoples, located in Phoenix, Arizona. All of the programming of TONATIERRA operates under the mandates of the Nahuacalli in support of local-global and holistic indigenous community development initiatives in education, culture, and community economic development in accord with the principles of Community Ecology and Self Determination.
Gavin Kroeber
Gavin Kroeber is an artist, writer, and head of the interdisciplinary curatorial office The Studio for Art & Urbanism. His projects and writings, which poach from visual art, urban theory, and performance, are concerned broadly with cultural dynamics of power and in particular with their expression in the poetics of place. His current work is focused on the extreme urbanism of America's Western Sun Belt and redirective approaches to landscape. Projects in development include the performance-lecture Verdant Cities: A Warning and two public programs in St. Louis: the Fall 2017 social series At the Edge of Everything Else and a Spring 2018 event, The Autumnal City: A Midwestern Festival of Urbanism and Futurism. He is half of the curatorial collaborative Experience Economies (with Rebecca Uchill) and holds a Master of Design Studies in Art, Design, and the Public Domain from the Harvard Graduate School of Design.
Wanda Dalla Costa
Wanda is a member of the Saddle Lake First Nation in Northern Alberta. She has worked with First Nations and Tribal entities for over 20 years.
Her interest in cultural design was developed through a combination of Native Studies (B.A. 1991, U of A) and from exploring indigenous architecture overseas. She holds a Masters of Architecture (U of C, Calgary, AB) and a Masters of Design Research in City Design, Planning & Policy (Southern California Institute of Architecture or SCI-Arc, Los Angeles, CA).
Wanda is a member of AISES (American Indian Science & Engineering Society) and AICC (American Indian Chamber of Commerce). She most recently acted as the Cultural Adviser for the United States Department of Energy Solar Decathlon Competition (Team Canada).
Wellington "Duke" Reiter
Wellington "Duke" Reiter is the Senior Advisor to the President of Arizona State University with particular focus on university/city integration. He also coordinates specific initiatives related to higher education, healthcare and sustainability.
Over the past twenty years, Mr. Reiter has played numerous roles: community leader, academic administrator, faculty member, architect, urban designer, and public artist. In the course of his career, he has established a track a record of highly effective partnerships with public office holders, the business community, non-profit groups, professional organizations, developers, and universities. Central to his diverse portfolio of experience has been the construction of mutually beneficial relationships between the institutions he has led and the cities in which they are located. A student of higher education, urban design, and entrepreneurship, Reiter is particularly interested in the economic, cultural, and sustainability of major US metro areas and the engagement of the top tier colleges and universities that are embedded within them.
Mr. Reiter was a key player in the conceptualization and creation of the award-winning Downtown Phoenix Campus for ASU. He is the past President of the School of the Art Institute of Chicago, the former Dean of the College of Design at Arizona State University, and a long-time faculty member at MIT in the Department of Architecture. He is the recipient of the Arizona Architect's medal and is a Fellow of the American Institute of Architects. He is the past Chair of the Urban Land Institute Arizona District Council and is a Trustee of the organization. A monograph on Mr. Reiter's work, Vessels and Fields, is available from Princeton Architectural Press.
Phoenix Revitalization Corporation

Phoenix Revitalization Corporation (PRC) is a non-profit community development corporation dedicated to the revitalization of neighborhoods by facilitating community improvement projects, and the maintenance and creation of low-income and workforce housing. An emphasis is placed on the revitalization of Central City South, a community located immediately south of the Phoenix Downtown Business District and the Arizona State Capitol Mall.
Jason Schupbach
Jason Schupbach is the Director of The Design School at the Herberger Institute for Design and the Arts. He was previously the Director of Design and Creative Placemaking Programs for the National Endowment for the Arts, where he oversaw all design and creative placemaking grantmaking and partnerships, including Our Town and Design Art Works grants, the Mayor's Institute on City Design, the Citizens' Institute on Rural Design, and the NEA's Federal agency collaborations. Previous to his current position, Jason served Governor Patrick of Massachusetts as the Creative Economy Director, tasked with growing creative and tech businesses in the state. He formerly was the Director of ArtistLink, a Ford Foundation funded initiative to stabilize and revitalize communities through the creation of affordable space and innovative environments for creatives. He has also worked for the Mayor of Chicago and New York City's Department of Cultural Affairs. He has written extensively on the role of arts and design in making better communities, and his writing has been featured as a Best Idea of the Day by the Aspen Institute.
Aaron Betsky
Aaron Betsky is a critic and author of more than a dozen books on art, architecture, and design. Trained at Yale, Betsky has worked as a designer for Frank O. Gehry & Associates and Hodgetts + Fung, taught at SCI-Arc, and served as the director of the 11th Venice International Architecture Biennale. He is currently the dean at the School of Architecture at Taliesin.
Maribel Alvarez
Maribel Alvarez, Ph.D., is an anthropologist, folklorist, curator, and community arts expert who has documented the practice of more than a dozen of the country's leading emerging and alternative artistic organizations. She holds a dual appointment as Associate Research Professor in the School of Anthropology and Associate Research Social Scientist at the Southwest Center, University of Arizona. Through an executive-on-loan arrangement with the University, she currently serves as Executive Program Director of the Southwest Folklife Alliance. She teaches courses on methods of cultural analysis, with particular emphasis on objects, oral narratives, foodways, and visual cultures of the US-Mexico border. In the last few years, Maribel has written and published essays about poetry and food, intangible heritage, nonprofits and cultural policy, the theory of arts participation, artisans and patrimony in Mexico, and popular culture and stereotypes. In 2009 she was a Fulbright Fellow conducting research in rural Mexico. Maribel was the co-founder and executive director for seven years of MACLA--Movimiento de Arte y Cultura Latino Americana, a contemporary, alternative urban arts center in San Jose, once described as a "lab for intelligent cultural interventions." Maribel is a trustee of the American Folklife Center at the Library of Congress; in addition, she has served as faculty for ten years at the National Association of Latino Arts and Culture's summer Leadership Institute in San Antonio, TX. Currently, she is completing two book manuscripts for the University of Arizona Press, one on the verbal arts and lore of workers in the Mexican Curios cottage industry at the US-Mexico border, and another on the cultural history of wheat and flour mills in the state of Sonora in northern Mexico. Maribel was born in Cuba and came to the United States at the age of seven; she lived in Puerto Rico for eleven years before moving to California in 1980, where she became active in the Chicano arts community and multicultural arts movement of that decade.