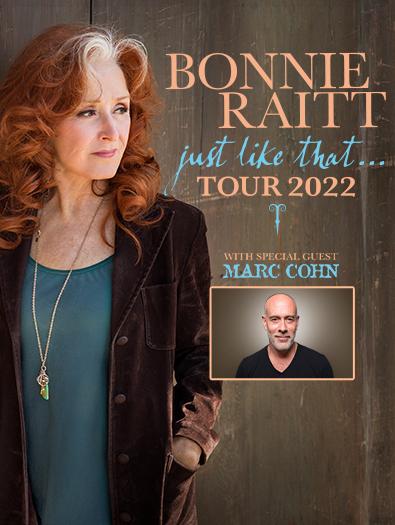 Bonnie Raitt
Tickets
Bonnie Raitt returns to the stage with "Just Like That... Tour 2022," which includes music from her forthcoming, long-awaited studio album.
Throughout her career, singer, songwriter and guitarist Bonnie Raitt has again and again proven her status in music history, all the while showcasing her unique style blending blues, R&B, rock and pop. The ten-time Grammy® winner was inducted into the Rock & Roll Hall of Fame in 2000, and Rolling Stone recognized her as both one of the "100 Greatest Guitarists of All Time" and one of the "100 Greatest Singers of All Time."
After 20 years as a cult favorite, Raitt broke through to the top in the early 90s with her Grammy® Award-winning albums, Nick of Time and Luck of the Draw, which featured the hits "Something to Talk About" and "I Can't Make You Love Me," among others. Her widely-acclaimed 2012 independent release Slipstream sold over a quarter-million copies, making it one of the top selling independent albums, and earned Raitt her 10th Grammy® Award (Best Americana Album). In February 2016 Raitt released her highly-anticipated 20th album, Dig In Deep (Redwing Records).
As known for her lifelong commitment to social activism as she is for her music, the Burbank, California native has long been involved with the environmental movement, doing concerts around oil, nuclear power, mining, water and forest protection since the mid '70s.