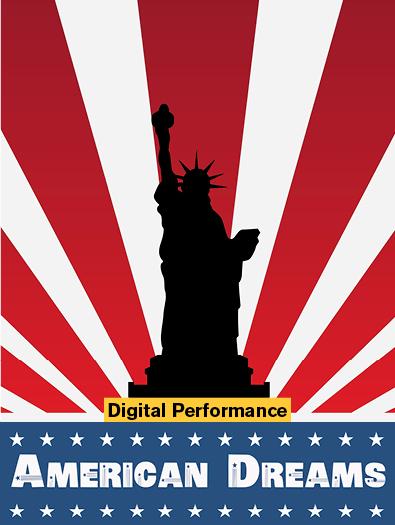 Digital Performance-AMERICAN DREAMS
September 26, 2020- 6 p.m.
Tickets
FREE Event
To register click the Tickets Button above or the Register Today Button Below. 
You are invited into the live online studio audience of American Dreams, a game show where you, the people, decides which contestant will receive the ultimate prize: instant citizenship to "the greatest nation on earth". 
Weaving audience engagement throughout four rounds of voting and more, this playful participatory performance takes a page from America's favorite game shows while exploring who and what we choose to believe—and how those choices come to shape who we are. 
Welcome to American Dreams. "It's a Game. It's a Show. It's America!"
AMERICAN DREAMS
Written by Leila Buck
Directed by Tamilla Woodard
Created and developed by Leila Buck and Tamilla Woodard with Jens Rasmussen in collaboration with Osh Ghanimah, Imran Sheikh and the company
Video Design: Katherine Freer
Virtual Performance Design: ViDCo
Scenic Design: Ryan Patterson
Costume Design: Kerry McCarthy
Sound Design: Sam Kusnetz
Lighting Design: Stacey Derosier
Graphic Design: the watsons
with Ali Andre Ali, Leila Buck, India Nicole Burton, Jens Rasmussen, Imran Sheikh, Andrew Aaron Valdez
Production Stage Manager: Colleen McCaughey
Assistant Stage Manager: Carolina Arboleda 
A Working Theater Production 
AMERICAN DREAMS was co-commissioned by ASU Gammage and Texas Performing Arts, with support from the JKW Foundation.
AMERICAN DREAMS was first produced by Raymond Bobgan for Cleveland Public Theatre in 2018
Sponsored by Jenny Norton and Bob Ramsey
Series