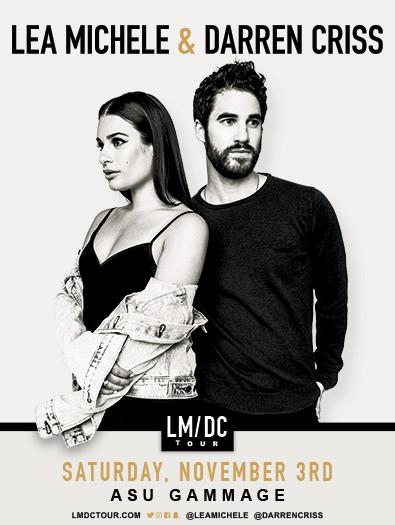 LEA MICHELE & DARREN CRISS
Tickets on sale now!
"When we did the first-leg of the LM/DC Tour, we didn't think we were going to survive one another through the end," joked Michele and Criss. "All kidding aside, we loved every minute of it. Each city warmly embraced us with a good time and high energy. We have the best fans and when we heard them wanting more, we absolutely wanted to deliver. We couldn't be more thrilled to take the LM/DC Tour to the west coast and overseas to the UK!" 
Michele last hit the road in the spring of 2017 for a string of sold out shows on her Intimate Evening With North America tour. Performing songs from her albums "Louder" and "Places" critics stated "Lea created a really beautiful night and performance. One of the key factors in the concert being so warm and welcoming was the fact that you knew everyone in the room was feeling the same."
Criss most recently released a five-track indie EP entitled Homework, his first solo project in over seven years. It debuted at #1 on Billboard's Heatseekers Chart while SiriusXM described it as a "nice hybrid of early Elton John and Ben Folds." In 2017, he debuted his indie-pop band Computer Games along with his brother Chuck Criss with their first album Lost Boys Life EP. Billboard deemed the bands single "Every Single Night" as a contender for song of the summer. 
Presented by Danny Zelisko Presents and ASU Gammage.
About Lea Michele:
Lea Michele is best known for her performance as "Rachel Berry" on the critically acclaimed, Golden Globe, Grammy, and SAG award-winning Fox television series Glee. She has been nominated for an Emmy, a SAG Award, and multiple Golden Globes. The Glee cast recordings have sold over 10 million singles and garnered over 20 top 40 US Billboard Hot 100 hits. Lea released her debut album 'Louder' in March of 2014, marketing her step into her career as a solo artist with an incredible vocally-driven record. The album debuted at No. 1 on iTunes and in the Top 5 on the Billboard Top 200 Albums chart. That same year, Lea added best-selling author to her resume when she released her first book, "Brunette Ambition", which was a NY Times Best Seller. She released her second book, "You First," the following year. In 2017 she released her sophomore album "Places" and embarked on a series of sold out shows in North America in support of the album.
About Darren Criss:
Darren Criss is a multi-faceted artist with an illustrious career spanning television, film, music and stage. He was recently nominated for a Primetime Emmy Award for his portrayal of Andrew Cunanan in the second installment of Ryan Murphy's award-winning series "American Crime Story: The Assassination of Gianni Versace." His performance has been dubbed as "electrifying," "chilling," "compelling," "magnetic and frightening," and "career-changing," and has received accolade recognition with nods from the Television Critics Association Awards and MTV Movie & TV Awards. In the fall of 2016, Criss returned to Broadway in his critically-acclaimed performance as Hedwig in "Hedwig and the Angry Inch," which kicked off the 2014 Tony Award-winning Best Musical Revival's national tour. The New York Times touted Criss as "mesmerizing" when he first stepped into the title role on Broadway in 2015. Best known for playing Blaine Anderson on FOX's global phenomenon "Glee," he received an Emmy Award nomination in 2015 for best original music and lyrics for the song "This Time," which was performed by Lea Michele and appeared in the episode titled "Dreams Come True."