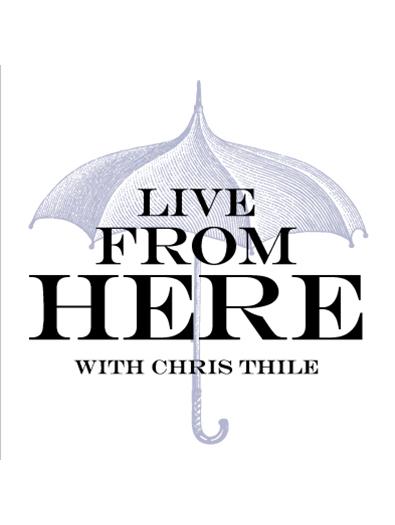 Live from Here
with Chris Thile
(a live broadcast at 3:45 p.m.)
Tickets
Chris Thile announced to audiences on Saturday evening that the new name for his weekly variety show will be Live from Here. The host shared the news during the show's live opening at The Town Hall. Produced by American Public Media (APM), Live from Here is the new name for A Prairie Home Companion with Chris Thile. Thile has hosted the program for the past year.
"My hope is that this name captures the energy and enthusiasm that is really at the core of this show," Thile said. "Live from Here is about people making beautiful things and sharing them with our audience in real time. The fact that the show is live – where anything is possible – is part of what makes it so special.
"We want 'here' to be that sense of place that's created by a community of people that comes together for 120 minutes each week – no matter where or how they're listening," Thile said.
Bringing audiences near and far together on Saturday evenings has been a tradition in public radio since A Prairie Home Companion launched in 1974. An acclaimed musician and songwriter, Thile took the helm of A Prairie Home Companion in fall 2016 after a lifetime of listening. At the time he was named Garrison Keillor's successor, Thile said, "I grew up with the show. I take this opportunity, this job, immensely seriously and with great awe."
The show, now known as Live from Here, continues that tradition – in person, online at www.livefromhere.org, on the radio – with 2.6 million weekly listeners on 586 stations. Each week, Thile welcomes a wide range of well-known and up-and-coming talent to share the stage and create a unique listening experience on his variety show.
Please note the start time of 3:45 p.m.
Live from Here is produced by American Public Media (APM)
---
Mandolinist Chris Thile is among the most highly acclaimed musicians of his generation.
It started when he was a toddler in Oceanside, California. His folks took him along for weekly visits to a pizza parlor in nearby Carlsbad, where he heard John Moore's band Bluegrass Etc., and where he would soon befriend siblings Sara and Sean Watkins, his future Nickel Creek bandmates.
The mandolin captivated the youngster. He started lessons with Moore, who wasted no time in getting the five-year-old on stage. "I was too young to be nervous." Chris recalls. I thought, 'Oh, this is what you get to do when you're five.'" Before long, the Thiles were driving bluegrass festival to bluegrass festival in the family camper. Chris was a soaking up music, jamming with other players, and winning championships.
By age eight, Chris had launched Nickel Creek with Sara and Sean Watkins. The genre-bending trio would go on to sell millions of albums and garner a boatload of honors, including a Grammy and a couple of IBMA Awards. In 2007, Nickel Creek called an "indefinite hiatus," although they reunited in 2014 and released A Dotted Line (Nonesuch Records).
Chris made his first Prairie Home Companion appearance in 1996. That broadcast showcased remarkable young artists. Chris, then 15, clearly fit the bill. Since that early APHC booking, Chris, recipient of a 2012 MacArthur "genius" grant, has certainly made his mark — and not only in bluegrass music. His mandolin concerto, Ad astra per alas porci, had its official premiere in 2009, with the Colorado Symphony Orchestra. He has collaborated with a who's who of musicians. His album Bass & Mandolin (Nonesuch) with Edgar Meyer won a Grammy, as did The Goat Rodeo Sessions(Sony Masterworks), when he joined forces with Meyer, Stuart Duncan, and Yo-Yo Ma. And his Bach: Sonatas and Partitas, Vol. 1 — music originally composed for violin — was released by Nonesuch Records in 2013.
In 2006, Chris formed Punch Brothers, with Chris Eldridge (guitar), Paul Kowert (bass), Noam Pikelny (banjo), and Gabe Witcher (fiddle). The group's recordings include Grammy-nominated The Phosphorescent Blues and a new five-track EP, The Wireless.
Chris Thile is married to actress Claire Coffee. The two, along with their young son, Calvin, make their home in Brooklyn, New York.