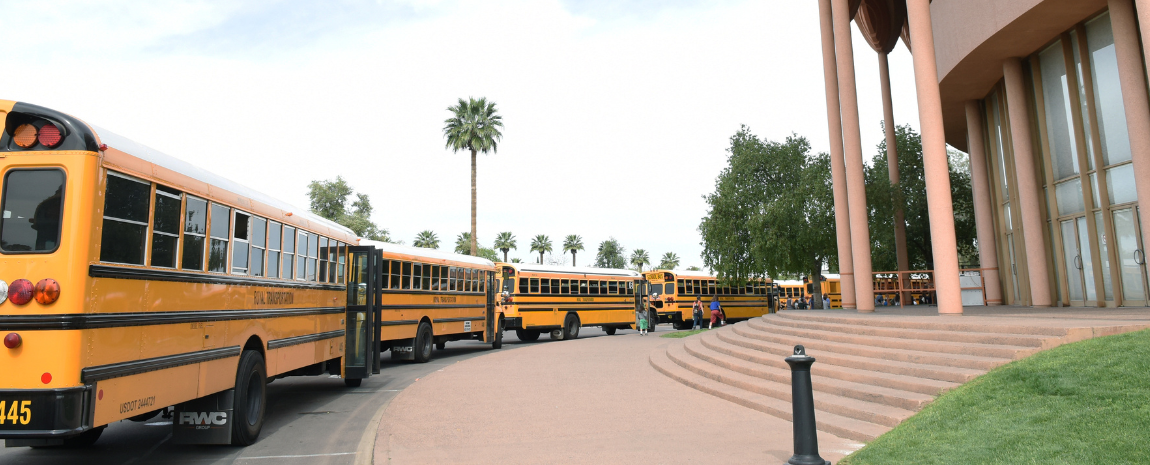 The Molly Blank Fund Performances for Students
The Performances for Students Series at ASU Gammage provides K-12 students with an opportunity to see incredible artists from around the world and the opportunity for teachers to incorporate these performing arts experiences into their daily curriculum. Educational curriculum guides are provided as part of this program to help students learn about the arts by incorporating vocabulary into their daily lessons. Additionally, students experience a variety of cultures and learn the importance of specific art forms and the impact of the arts on the surrounding world. Students learn to connect arts to every day school subjects like dance to science and music to math, all culminating in a live experience that thrills the senses and allows the imagination to come alive.
In-person and live-streamed performances with Live Q&A. Tickets for in-person attendance is $3 per person (students, chaperones, etc), and online viewing is FREE.
For more info, please contact education@asugammage.com.
To find out more about all our K-12 education opportunities, sign up for our education email list by clicking here.
2023- 2024 Lineup
AXIS DANCE COMPANY
AXIS DANCE COMPANY
Monday, Oct. 23, 2023
10:30 – 11:30 a.m.
ASU Gammage
Grades 3-12
Curriculum Connections: Dance, Language Arts, Socio-Emotional Learning
Led by Artistic Director Nadia Adame and Managing Director Danae Rees, AXIS Dance Company is one of the nation's most acclaimed ensembles of disabled, non-disabled and neurodiverse performers. AXIS was founded in 1987 and is based in the Bay Area, California, where they create world-class productions that challenge perceptions and redefine dance and disability. Alongside their artistic programming, the Company provides unparalleled integrated dance education and outreach programs that remove barriers and showcase the beauty of difference.
DENDÊ
DENDÊ
Thursday, Feb. 29, 2024
10:30 – 11:30 a.m.
ASU Gammage
Grades 3-12
Curriculum Connections: Music, Social Studies, Science
Dendê is a Brazilian percussionist, singer, composer, bandleader, teacher, and multi-instrumentalist. As music and dance are central elements of Candomblé practice, its ceremonies served as the earliest musical sounds experienced by Dendê.
LEELA DANCE COLLECTIVE
LEELA DANCE COLLECTIVE
Tuesday, April 2, 2024
10:30 – 11:30 a.m.
ASU Gammage
Grades 3-12
Curriculum Connections: Dance, Social Studies and Art
Leela Dance Collective is an internationally touring dance company that advances kathak, classical dance from North India. Leela Dance Collective has garnered critical acclaim under the artistic direction of renowned kathak artists Rukhmani Mehta (formerly Rina Mehta), Seibi Lee, and Rachna Nivas. Through traditional works and cross-genre collaborations, the Collective brings the richness and depth of Indian classical dance to audiences worldwide.
The Molly Blank Fund Performances for Students is sponsored by the Abbett Family Foundation, APS, Target and The Seiden Family Endowment.