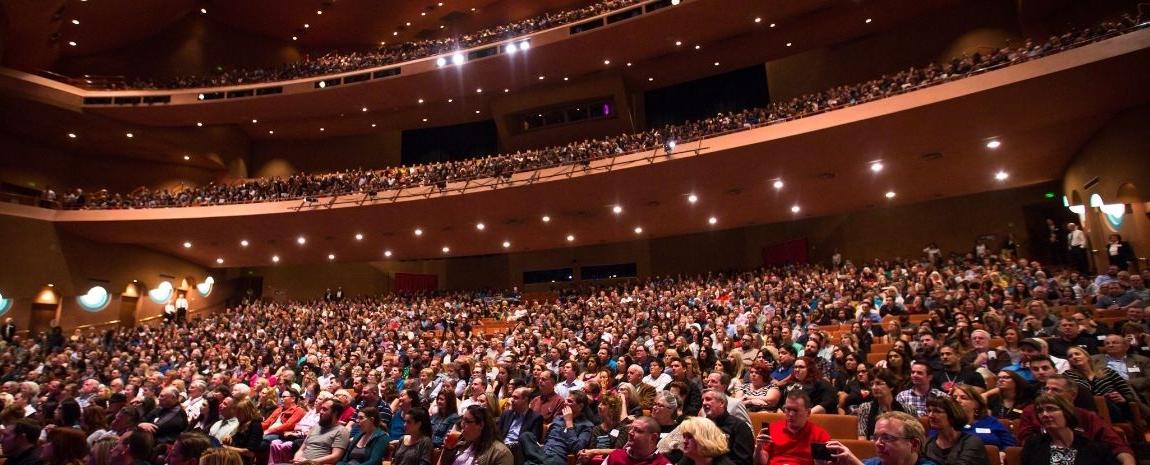 Groups
Enjoy shows at the best prices when you reserve as a group.
For 2022/2023 Broadway Season pricing please email groups@asugammage.com or call 480-965-6678.
2023/2024 Season Groups Pricing
HAMILTON Groups will go on sale August 14, 2023 at 10 a.m.
Reserve your seats to take advantage of these exclusive group benefits:
Discounted Prices — Up to 25% discount for groups of 15 or more; up to 30% discount for groups of 50 or more! (Some exclusions apply)
Early Opportunity to Order — Groups can order tickets for the whole season before they go on sale to the public
Discounted Handling Fee — $2 handling/service fee per ticket instead of individual ticket $8 service fee per ticket
Advance Notice of Upcoming Shows — Groups are notified and able to purchase tickets to additional shows before the public
Personal Customer Service — All group purchases are handled by ASU Gammage group services staff
Marketing Materials Available — Group Services can supply you with show posters and/or flyers to help you promote the shows to your group
Once tickets are reserved, we will email a contract/invoice that details your seat locations, deposit total, payment total and deadlines.
Deposits will be due at time of reservation. A $25 late fee will be applied per performance that is not paid by designated final due date.
For more information, please email groups@asugammage.com.
Pre Show Receptions
Socialize with your group before a show! Reception space is available for groups of 15–300. Our reception packages are very affordable and a great way to enhance your group's ASU Gammage experience.
Scoular Gallery receptions are for groups of 15–50 people.
Promenade receptions are for larger groups.
For more information contact rental@asugammage.com
Free Tickets
Groups receive one ticket free of charge when bringing a group of 15 or more to a Broadway show at ASU Gammage (some exclusions apply).
Flex Pay for Groups
Paying for your group tickets is now easier than ever! When you place your order most shows only require a 25% deposit at time of reservation. We will assign your seats and final payment is due later. You can lower the number of tickets up until final payment if you stay above the group ticket minimum or your deposit, whichever is greater. Your group tickets can be in a variety of price levels — they just need to be for the same performance!
Girl Scout Night
We offer special Girl Scout Nights each year that include discounted pricing and a post show Q & A with cast members.
Contact groups@asugammage.com or call 480-965-6678 for more information.
More information on Girl Scout Night Click Here.
Group Services Policies & Procedures
To Reserve Seats
Seats may be reserved by emailing groups@asugammage.com or calling Group Services at 480-965-6678. Once tickets are reserved, Group Services will email a contract/invoice that details your seat locations, deposit total, payment total and deadlines.
25% Deposit
A 25% non-refundable, non-transferrable deposit must be paid at time of reservation. If a deposit is not paid within this time, seats will be released. Some shows require a 50% deposit. Late payments will be subject to a $25 late fee per performance.
Service Fees
The following fees are part of the advertised ticket price:
Facility Fee — $4.50 per ticket
Service Fee — $2.00 per ticket
Payment
Accepted forms of payment include: check, cash, Visa, MasterCard, American Express, Discover and purchase orders.
Orders and payments may be made by mail, fax, phone or in-person. If you wish to place an order or make final payment in person, please schedule an appointment so someone can be available to help you.
Late payments will be subject to a $25 late fee per performance.
Printing Tickets
Tickets will only be printed upon final payment. There are no exceptions.
Changing the Order
Tickets may be added to an order at any time, based on availability. Once the original order has been paid and tickets have been printed, all additional tickets must be paid-in-full at the time of order.
Reductions from the original order should not be made by more than 20% once a deposit has been made. Groups should reserve only the amount of tickets that can be confirmed and paid-in-full.
Cancellation/Refund Policy
All payments, including deposits, are not refundable and not transferable to other shows. Tickets cannot be exchanged.
Special & Promotional Offers
Sometimes special and promotional offers are available to groups including: additional discounts for groups of 50 or more, weekday matinee performances for seniors and students, early bird specials, etc. Please call Group Services for details.
Seating
Group seating is based on availability and orders will be processed in the order in which they are received.
Note: The seating arrangement at ASU Gammage is continental seating, which means that the seats that are together are numbered every other seat, either odds or evens. Seats 1 and 2 are the very center seats in the auditorium, with everything left of center being odd (3,5,7,etc.) and right of center being even (2,4,6,etc.). The lower the seat number, the more centrally it is located.
Group Sale Tip
Please keep a list of the seats assigned to each member of your group, in case tickets are lost.