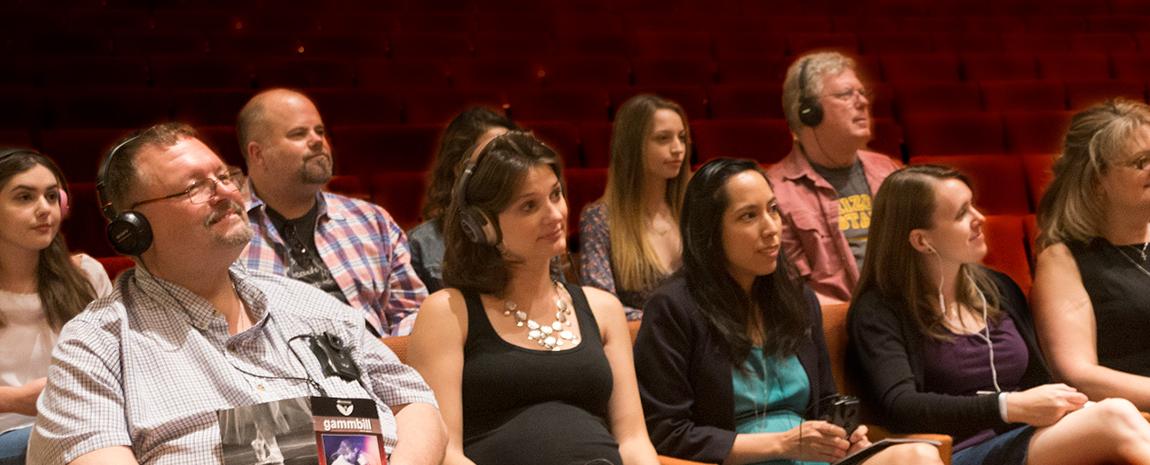 Accessibility
We strive to make ASU Gammage easily accessible for all patrons.
ASU Gammage offers reserved spaces for patrons with disabilities, seating areas for patrons using wheelchairs and accessible restrooms. There is an elevator in the west lobby that takes patrons to the front accessible area in the theatre on the Orchestra level. There are elevators on either side of the building allowing access to all levels of the venue.

ASU Gammage has sound enhancement equipment available at hat check areas for patrons with hearing impairments. Selected DESERT FINANCIAL CREDIT UNION Broadway Across America - Arizona performances are signed using American Sign Language. ASU Gammage also provides Audio Description for patrons with visual impairments on select Wednesday performances for Broadway shows. 
As a service for people with hearing loss ASU Gammage provides open captioning for select performances that uses a text display to provide a simultaneous translation of dialogue and lyrics during a live performance, as well as a description of any sound effects on stage. The service is open to everyone for viewing in a designated seating area without any special equipment needed by the audience member. Because of this, open captioning is considered passive assistance and is part of the Universal Design concept, which means that it can be used by all people, regardless of age and ability.
Please contact the ASU Gammage Box Office for more information and to purchase tickets at boxoffice@asugammage.com. Please request accommodations for persons with disabilities when ordering. See links below to purchase tickets online for ASL Interpreted Performances and Open Caption Performances.
ASSISTED LISTENING SYSTEM
Bring your favorite headphones for the best experience!
At ASU Gammage, a patrons' show experience is everything. From dazzling sets to breathtaking acting, every detail tells a story. 
To enhance this experience for hearing impaired guests, ASU Gammage installed a new $30,000 assisted listening system called a RF, or radio frequency system. The RF system operates like the radio in your car, explained ASU Gammage senior technical director Shaun Schultz. 
The auditorium's ceiling contains a radio transmitter, allowing patrons to tune into the signal of the show from small receiver packs with headphone plug-ins. ASU Gammage has 300 packs available to patrons in the Hat Check area.
"We suggest, if you have a favorite pair of headphones that you use at home or with your phone, that you bring and use those. They plug directly into the system and they're more comfortable," he said. "You'll get a better-quality sound than the earbuds that are available at the venue." Any 1/8-inch headphone jack is compatible with the system, Schultz added. 
Each person has their own preference-be it earbuds or headphones, explained Jeff Rollins, ASU Gammage technical operations manager. Bringing your favorite pair is the best way to experience the RF system and ensure you feel comfortable. The RF system not only increases the venue's accessibility, but also allows for a more personalized theater experience. 
"It enables people to listen to the show at their specific, chosen volume," Rollins said, noting that the receiver pack also helps block out noise from other patrons. "It immerses them in the show." The new system also allows for some patrons to experience assisted listening directly through their hearing aids. Hearing aids containing a small, copper wire called a telecoil are compatible with the RF system. 
Patrons interested in connecting to the system through a hearing aid can request a loop, which is worn like a necklace, at Hat Check. This allows the device to receive and broadcast the show's audio directly into the guest's ear. 
For more information about the RF system, please visit the ASU Gammage Hat Check.