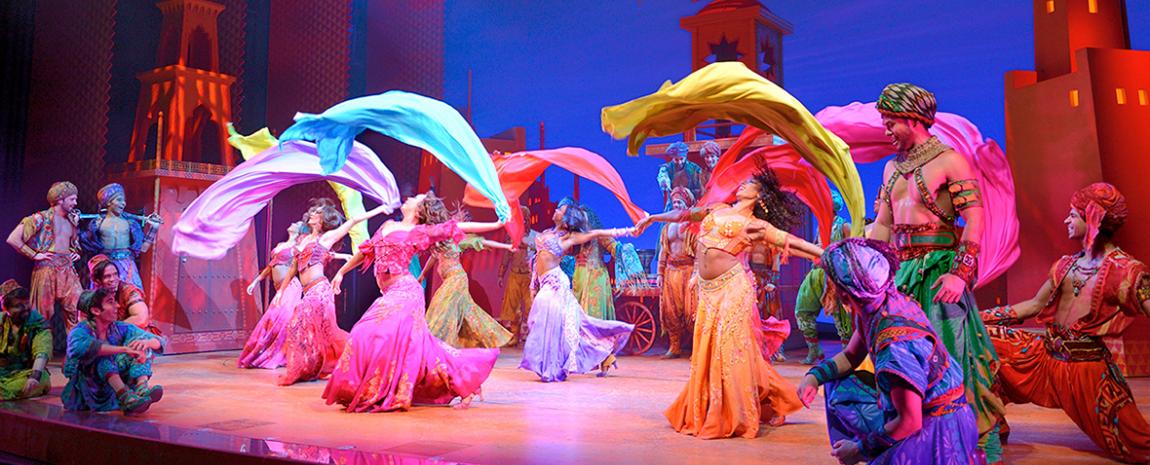 FAQ
Got a question? We've got the answer.
Broadway Across America Arizona Season Subscriber Terms
Broadway Across America Arizona Season Subscriptions, and all Tickets and Additional Tickets purchased under any Subscription, are subject to the Broadway Across America® Standard Season Subscription Terms and Conditions posted on our website at BroadwayAcrossAmerica.com/SubscriberTerms and the offer details for the applicable season . Offer details for the 2022-23 season are available here and offer details for the 2023-24 season are posted here. By purchasing a Season Subscription, you agree to such Terms and Conditions. Prices, shows, artists, dates and times are subject to change at any time without notice.
Are building tours of ASU Gammage available?
If you would like to tour ASU Gammage email tours@asugammage.com for information.
What should I wear to ASU Gammage? Is it formal?
There is no formal dress code but most patrons wear business casual clothing. Almost anything is acceptable, from jeans to gowns.
What time should I arrive at the theater?
You will want to arrive at least 60 minutes prior to performance time to allow time to park, go through venue security, pick up your tickets (if necessary), and be seated.
Is there food available at the theater? Can I bring food or drink into the theater?
The Portico Patio at ASU Gammage opens 90 minutes before Broadway shows and offers sandwiches, desserts, light refreshments, beer and wine. ONLY food and drinks in resealable bottles purchased at ASU Gammage concessions may be brought into the theater from the lobby.
Will there be an intermission?
Most shows have a 15 minute intermission. Some shows have no intermission which is stated in the Gammbill and also on lobby signage.
Is the theater handicap accessible?
Yes. Wheelchair or limited mobility seating is available for purchase through the Box Office at 480.965.3434.
May I use my cellular phone or camera?
No. Cell phones should be turned off for all performances. No recording devices are permitted during any performance.
Are there any discount tickets?
Generally Broadway shows only discount seats for season ticket holders and groups.
What if I'm late to the performance?
Latecomers will be seated at an appropriate interval which is determined by the show itself.
What is your refund, cancellation and cast change policy?
There are no refunds unless a show is canceled. If canceled you may obtain a full refund. No refunds will be given for a cast change or for any other reason.
Can I buy souvenirs?
Most shows do offer show-related merchandise for sale in the lobby.
Is it ASU students putting on the Broadway productions? Is this the cast from Broadway?
These are the professional touring Broadway casts, direct from NYC.
Are there any special performances for the hearing impaired?
How can I purchase tickets? Is it okay to purchase tickets from outlets other than Ticketmaster or the ASU Gammage Box Office?
The best way to protect yourself from fraud is to only buy tickets through Ticketmaster or ASU Gammage directly.
Will I have to pay additional fees when I purchase tickets?
All tickets have a $4.50 facility fee. Additional service fees will be applied to all purchases made by phone, internet or at the box office. Tickets purchased at the ASU Gammage box office have the smallest additional fees.
Where will my seats be?
ASU Gammage has three seating levels, orchestra, grand tier and balcony and are priced accordingly. Click here to see a seating map.
Can I bring my child to the theater? Is there a minimum age limit? Are there booster seats I can use for my child?
There are no age limits on productions at ASU Gammage - it is up to parents to decide if a show will be appropriate for their child. The box office can give you more information to help you make an informed decision. A limited number of seat cushions are available for check out from hat check. Everyone who attends must purchase a ticket. If your child is going to sit on your lap you must purchase a ticket in the price level in which your party is seated. The lap child cannot obstruct the view of the audience members around you.
What security will I have to go through in order to attend a performance?
Yes. You will have to go through security to attend performances. For more details click here.
What if I need to exchange my tickets for another night?
In most cases, ticket holders may exchange their tickets for a different/day time of the same performance if done at least 48 hours in advance. A $3 per ticket fee will apply for season ticket holders. A $10 fee will apply for single ticket holders. Additional restrictions may apply.
I found tickets for sale online for a show that hasn't gone on sale yet, how is this possible?
Often online brokers will post tickets to our shows without actually having tickets yet. The best way to protect yourself from fraud is to only buy tickets through Ticketmaster or ASU Gammage directly.