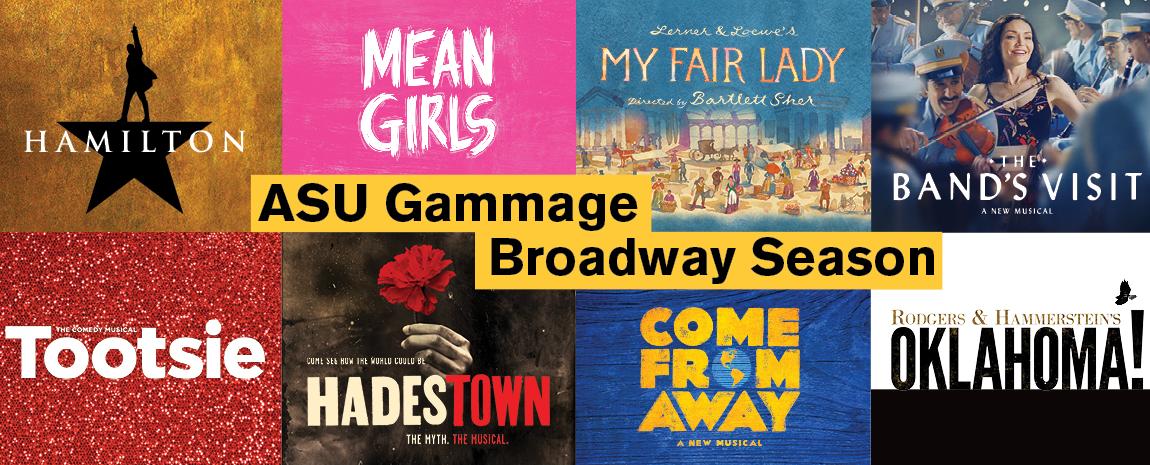 Season Tickets
Season tickets are no longer available. 
Single tickets will go on sale at a later date. 
Subscriber Benefits
ASU Gammage season subscribers receive the best!
A season subscription is one ticket to each of the following eight shows: HAMILTON, MEAN GIRLS, MY FAIR LADY, THE BAND'S VISIT, TOOTSIE, HADESTOWN, COME FROM AWAY and Rodgers & Hammerstein's OKLAHOMA!
Quality and Value
The BEST SEATS to the HOTTEST SHOWS The best is reserved for season subscribers – last season, on average, seven show season subscribers saved 39% off day-of-show pricing†. By purchasing a season subscription, you reserve your seats for seven hit shows and avoid potential single ticket price increases as the performance approaches.
Priority Seating on Season Options Receive priority access and special pricing on tickets for season options that are not part of the season package.
Priority Parking Priority parking is bundled into your subscriber package at ASU Gammage, ensuring the best parking in either the ASU Gammage lot or the Apache Parking garage (depending on arrival time).§
Save Big at Local Restaurants Receive discounts at select local restaurants.
Flexibility
Swap a Show** Season subscribers can swap any one show on the Broadway season with another show. 
Optional Payment Plans Option to pay 50% now and 50% later. Must pay by credit card, limit one credit card per account. Valid only on 8 show subscription.
Exchanges** Need to attend a different day or want to try better seats? Subscribers have discounted exchange privileges and can even exchange their tickets online!
Privilege
Advance Purchase Opportunities You can order additional tickets to ANY show, BEFORE they go on sale to the general public.
Subscribers Only Ticket Window Only subscribers have a dedicated service window at the ASU Gammage Box Office. 
21-22 Season Ticket Package Pricing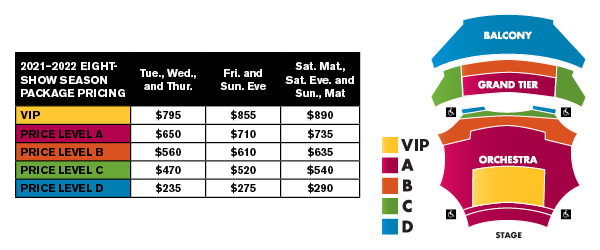 *VIP seating: Annual donation of $1500+ required in addition to the cost of the tickets. Please click here for more information.
For current season ticket holders please see the FAQs below to answer questions about the changes in your current season ticket packages. 
Please note that all patrons must wear and supply their own mask while visiting ASU Gammage. 
Subscriber Terms and Benefits
Season Changes FAQ
Season Changes FAQs
Q: If I am a current season ticket holder will I need to pay anything additional for the updated season
A: No, the subscription cost stays the same.
Q: Will JERSEY BOYS, FROZEN, and TO KILL A MOCKINGBIRD be rescheduled?
A: These shows will no longer be a part of the upcoming Broadway season but we hope to bring all three of these shows back in a future season.
Q: What if I paid to exchange my tickets, will I get the exchange fee back?
A: Yes, any fees associated with purchasing additional tickets or exchanges will be credited back to your account.
Q: What are the options for the credit on my account?
A: Your credit won't expire and can be used to exchange or purchase additional tickets. You also have the option of making a tax-deductible donation of your credited amount to ASU Gammage or having your credit refunded to the original method of payment. Click here for the donation and refund request form.
Q: If I exchanged one of my shows to a different day of the week will my new tickets be for my normal package day for that show?
A: Yes, all of your shows will be on the same day and time as your original subscription.
Q: If I swapped a show for another season show what happens?
A: All subscriptions will include the same list of shows. If you still want to swap from one to another you will be able to do so again during the Subscriber Priority Period. You will receive an email about this opportunity at a later date.
Q: If I transferred my tickets to someone else will they receive the new dated tickets?
A: No, any tickets that have been transferred will be returned to account owner and replaced with new tickets. If you have transferred tickets to someone, those tickets are no longer valid and you will have to transfer the new tickets.
Q: Will I have a chance to upgrade my seats?
A: No, seating availability has not changed therefore, there are no seats to upgrade to. You will have the opportunity to upgrade on a show by show basis during the Subscriber Priority Period.
Q: What if I want to add or decrease the quantity of subscriptions in my account?
A: Please email boxoffice@asugammage.com with your specific request.
Q: If I canceled part of my subscription can I get those seats back on my account?
A: Some seats may no longer be available. Please email boxoffice@asugammage.com with your request.
Q: Do my VIP benefits carry over?
A: As a VIP Club Member of the 2020 – 2021 Season, your season subscription seats will carry over.
Because of your gift, ASU Gammage has been able to maintain operations; providing online digital content, keeping our Cultural Participation programs thriving, providing critical funding to artists, and employing full time staff. We ask that you consider renewing your annual gift for the 2021-2022 season so that we may open strong with new safety protocols in place for our audiences. Please contact Tim Walling, Development Officer at 480-965-9915 to make your gift or if you have any questions
Q: What if I don't feel comfortable returning to ASU Gammage yet?
A: Please reach out to our Box Office (boxoffice@asugammage.com), and they will work with you on your options.
Q: Can I purchase additional tickets or make exchanges?
A: There will be a Subscriber Priority Period to Swap a Show, buy additional tickets and make exchanges. You will receive an email with that date and additional details closer to the start of the season.
Q: What if I canceled my subscription due to COVID-19? Can I purchase it back?
A: Some seats may no longer be available, but we will provide an opportunity for 2020-2021 subscribers who canceled their subscriptions due to COVID-19 to purchase their subscriptions or similar seats back.
Q: When can I purchase a new subscription?
A: New subscriptions will become available on Monday, May 10. Sign up to receive priority access here.
Subscriber Terms
Prices, shows, dates, schedules, venues and artists are subject to change without notice. Depending on production requirements, seating may occasionally become available in the orchestra pit without notice. All sales are final. No Refunds. Season Subscriptions and all Tickets and Additional Tickets purchased under any Subscription, are subject to the Broadway Across America® Standard Season Subscription Terms and Conditions posted on our website at BroadwayAcrossAmerica.com/SubscriberTerms. By purchasing a Season Subscription, you agree to such Terms and Conditions.
†Savings were calculated by comparing the subscriber ticket pricing (inclusive of all handling fees, facility fees, service charges, applicable taxes, and per seat Premium subscription fees, if applicable) versus day-of-show single ticket pricing when ordered by phone or internet (inclusive of all handling fees, facility fees, service charges, and applicable taxes) for 2018-2019 season performances of of WAITRESS, ON YOUR FEET, DEAR EVAN HANSEN, HELLO, DOLLY!, ALADDIN, THE PLAY THAT GOES WRONG and CHARLIE AND THE CHOCOLATE FACTORY at ASU Gammage. Subscriber savings are less when compared to single ticket buyers who purchase at the box office window without paying handling fees and service charges. Subscriber handling fees, service charges and any applicable per seat Premium subscription fees are prorated according to the number of shows in the 2018-2019 basic season subscription package. This calculation does not factor in any Season Options.
**Subject to availability. Swap a show and exchanges may not be available or restricted for certain shows. There is a $3 per ticket exchange fee. Must be done at least 48 hours in advance of ticketed performance. If exchanging into a higher priced seating location or performance, Subscriber is responsible for paying the difference.
The price of each subscription seat reflects the face value of your tickets as well as $40 in processing fees and $35 parking fees, a total of $36 in facility fees, all applicable taxes. For subscribers in the VIP Club section, the VIP Club Subscription Fee noted below must be added to pricing shown. Parking fee is not optional and not refundable.
*VIP Club Subscriptions require an additional $1500 charitable contribution for each two seats that are purchased. VIP Club Subscribers receive priority access to premium seat locations available only to these Subscribers prior to tickets being placed on sale to the general public.
One parking pass will be issued to each subscriber account.
Prices, shows, dates, schedules, venues and artists are subject to change without notice. Depending on production requirements, seating may occasionally become available in the orchestra pit without notice.