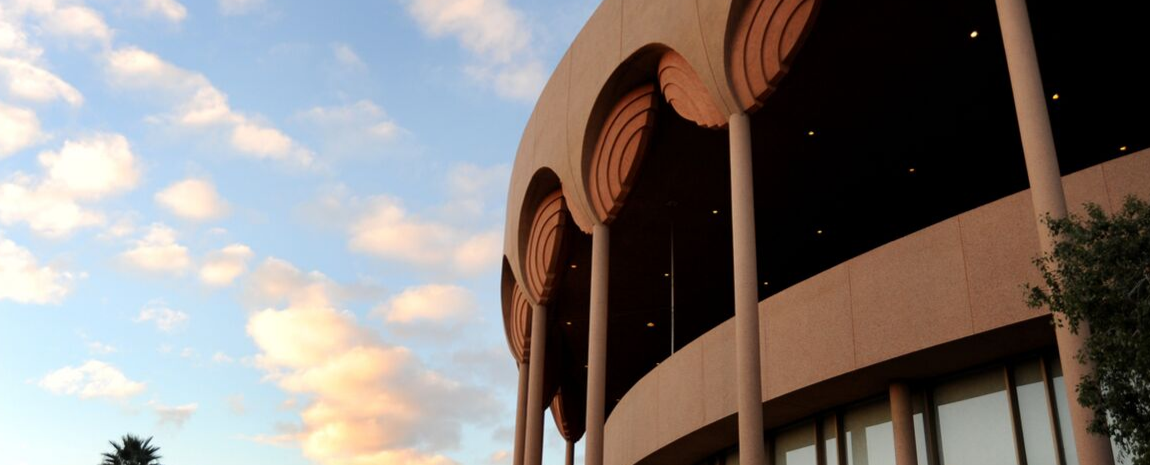 Security and Bag Policy
ASU Gammage Security Policy for Shows
ASU Gammage values the safety and security of our patrons and has implemented enhanced security measures. Patrons will be screened using metal detectors and limited to one carry-in item per person.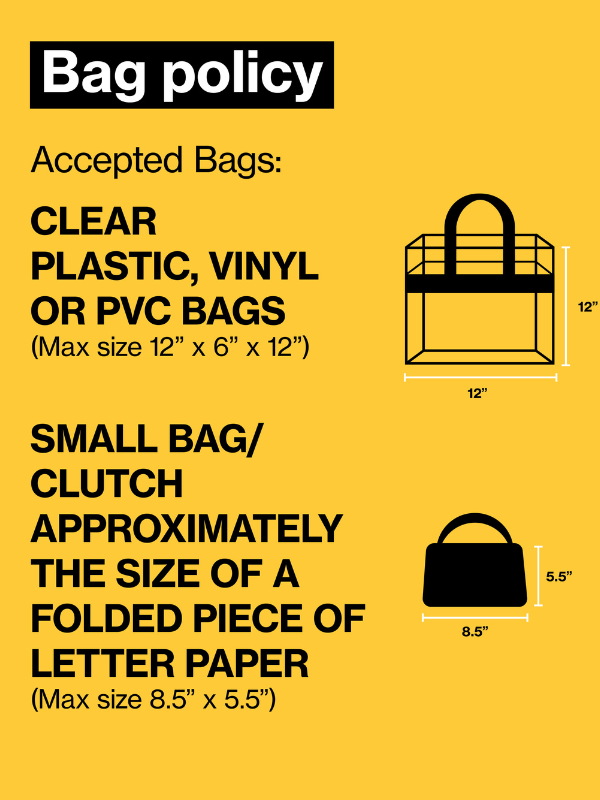 Clear Bags ASU Gammage with a maximum size of 12" x 6" x 12" are allowed into the venue.
Small purses/bags, with or without a handle, that do not exceed 8.5" x 5.5" (roughly the size of a folded piece of letter paper) will be allowed.  All bags are subject to search. (Bag size does not include the strap or handle).
The following items are prohibited inside ASU Gammage and are causes for removal:
Weapons of any kind including those carried with permit (includes pocketknives)
Mace/pepper spray
Any non-clear bag or purse that is larger than 8.5" x 5.5"
Beverages and beverage containers (a factory sealed water, empty plastic or metal water bottle 32 fl oz or smaller is allowed)
Pets — except service animals
Full sized strollers, bikes, skateboards, scooters, hover boards, long boards (bike and skateboard racks available outside)  
Wrapped presents and packages (items need to be unwrapped in order to be inspected)
Any other miscellaneous item deemed inappropriate or dangerous by ASU Gammage Security Staff 
Any prohibited items or bags that do not meet the requirements must be returned to the owner's car or discarded.  
Metal Detector Safety:  ASU Gammage does not use metal detectors that use magnetic waves in them. They are safe to use for any guest who has a medical implant that is sensitive to magnetic waves, such as a pacemaker.
ASU Gammage reserves the right to modify these rules as required to accommodate different event needs.
Some events may require stricter policies (i.e. graduations, concerts).
All guests are subject to inspection of person, parcels, bags, containers and clothing capable of carrying prohibited items. 
Questions? Please email security@asugammage.com.
By tendering your ticket and entering the venue, you consent to such searches and waive any related claims that you might have against ASU, Broadway Across America, the performers and their affiliates. If you elect to not consent to the searches, you will be denied entry to ASU Gammage. No refunds. Every guest must pass through a security checkpoint.