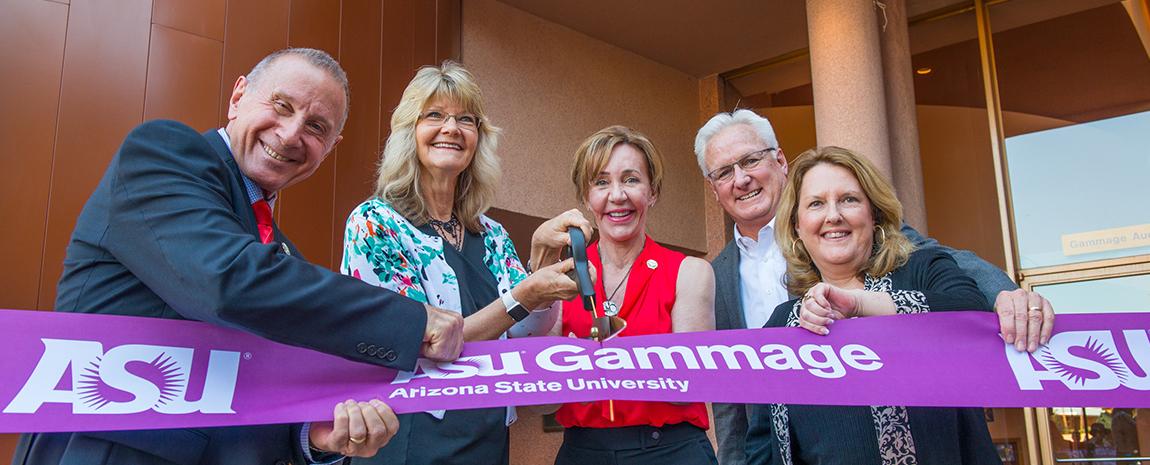 Giving to ASU Gammage
Your support makes a difference
Give to ASU Gammage
Please help ASU Gammage continue to have a significant cultural impact on the lives of students and community members by giving a gift to ASU Gammage today. Your gift will help us advance ASU's commitment to Excellence, Access and Impact. It will also:
• Provide access to vital arts education programs to more than 30,000 students and teachers in nearly 100 Maricopa County schools
• Positively impact more than 19,000 underserved children through ASU Gammage residency projects and programs like Art of Me, Camp Broadway, Kaleidoscope and more
•Foster excellence among ASU students through performance opportunities, internships, residencies, master classes, curriculum support, ticket discounts, professional networking opportunities and more
•Produce programming excellence from Broadway to internationally acclaimed music, theater and dance
With the guiding principles of Connecting CommunitiesTM always in mind, ASU Gammage strives to enrich our community through cultural participation, presenting great art today and the commitment to presenting great art tomorrow.
Colleen Jennings-Roggensack
Executive Director of ASU Gammage & ASU Vice President for Cultural Affairs
---
Ways to Give
ASU Gammage Capital Projects - supporting historic preservation and capital improvements to our treasured theater designed by the legendary Frank Lloyd Wright
---
ASU Gammage Education and Outreach - supporting our Cultural Participation Program through scholarships, internships, Camp Broadway, Journey Home, Kaleidoscope and more
---
ASU Gammage Unrestricted - your gift goes where it is most needed
All donations to ASU Gammage are processed through the ASU Foundation. For additional information about ASU Gammage and our programs, please contact our development department at 480.965.9915.