Performances for Students
The Molly Blank Fund Performances for Students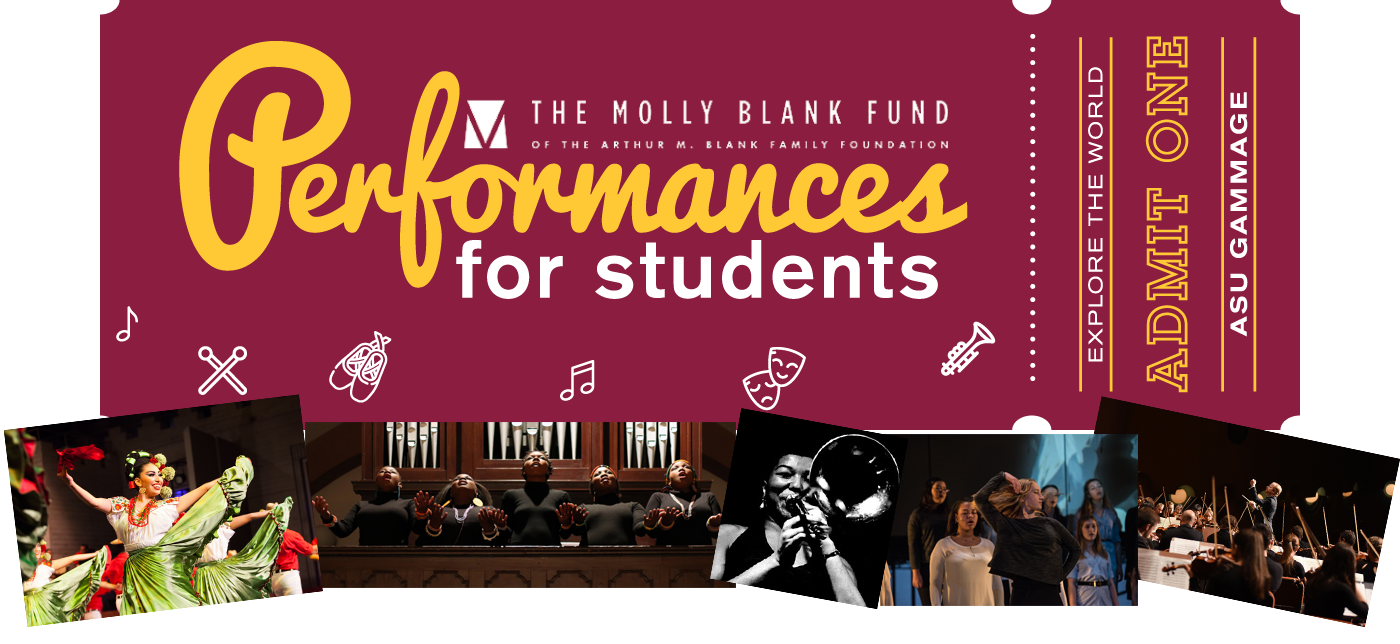 The Performances for Students Series at ASU Gammage provides K-12 students with an opportunity to see incredible artists from around the world and the opportunity for teachers to incorporate these performing arts experiences into their daily curriculum. Educational study guides are provided as part of this program to help students learn about the arts by incorporating vocabulary into their daily lessons. Additionally, students experience a variety of cultures and learn the importance of specific art forms and the impact of the arts on the surrounding world. Students learn to connect arts to every day school subjects like dance to science and music to math, all culminating in a live experience that thrills the senses and allows the imagination to come alive.
Tickets are $3.00 per student/teacher/chaperone. All performances begin at 10:30 AM and last 1 hour. 
Please plan to arrive by 9:30 or 10:00 a.m. to allow for enough time to seat all guests.
For more info, please contact cpinfo@asugammage.com or 480-965-3102.
2018-2019 Lineup
Pacifico Dance Company | Thursday, September 20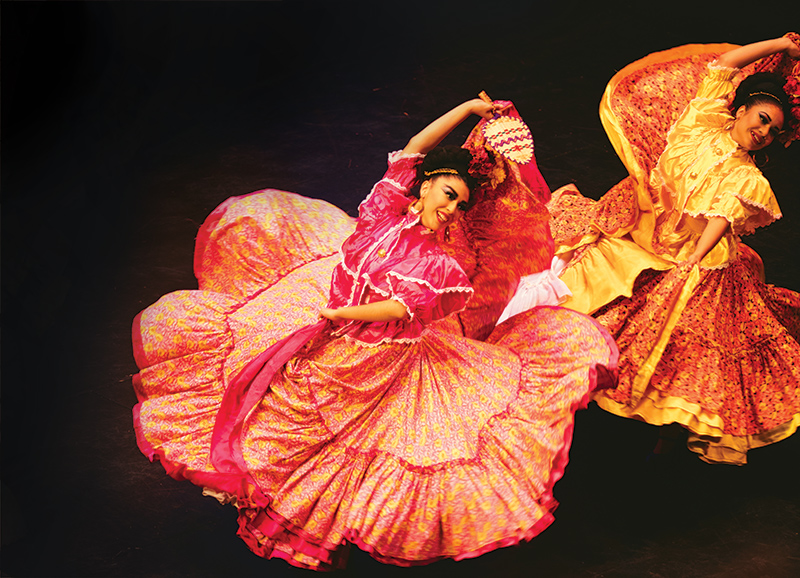 Pacifico Dance Company
Thursday, September 20
Curriculum Connections: Dance, Geography and Social Studies
Grades: K-12

Pacifico Dance Company presents spectacular performances of Mexican folklorico dances that combine the essence of traditional styles with modern dance idioms. Spectacularly costumed, this performance is filled with animated dancing and exhilarating music that is sure to thrill and amaze.

Nobunto | Tuesday, October 23

Nobuntu
AFRICA UP CLOSE
Tuesday, October 23
Curriculum Connections: Music, Geography and Social Studies
Grades: 3-12

In this interactive educational concert, Nobuntu introduces students and teachers to the unique cultural qualities of Zimbabwe—the music, stories, traditions and dances. Through performance and explanation, students are given an authentic and inside look at how important music and dance is to the African culture, how these art forms are passed from generation to generation, and the deep meaning found in these songs and dances.

Brooklyn Youth Chorus | January 18

Brooklyn Youth Chorus
SILENT VOICES: LOVESTATE
Friday, January 18
Curriculum Connections: Music and Science
Grades: 3-12

Silent Voices: LOVESTATE is the third installment in the Silent Voices series, a multimedia, multi-composer and multi-year series of concert works with spoken word conceived, produced and performed by Brooklyn Youth Chorus. The chorus has commissioned a dynamic roster of composers to collaborate with the choristers in confronting the challenges of racism, sexism, social and economic disparity, immigration, our environment, and threats to our understanding of truth, as we advance towards a more inclusive and compassionate vision of the future.

JazzReach | Thursday, March 7

JazzReach
SHE SAID/SHE SAYS: THE HISTORY AND STATUS OF WOMEN IN JAZZ

Thursday, March 7
Curriculum Connections: Music, History and Language Arts
Grades: 3-12

SHE SAID/SHE SAYS is a comprehensive program highlighting some of the many important achievements of female jazz composers, arrangers, instrumentalists and vocalists from the early 20th century through present-day.

Using U.S. and 20th century women's history as a backdrop, SHE SAID/SHE SAYS celebrates the lives of some of the many courageous, creative women who have dedicated their lives to the serious study and practice of jazz music.

ASU Symphony Orchestra | Wednesday, March 27

ASU Symphony Orchestra
Michelle Di Russo, Yun Song Tay and Francisco Hernández, Conductors
Wednesday, March 27
Curriculum Connections: Music and Art
Grades: 3-12
The ASU Symphony Orchestra offers audiences the opportunity to engage with major works of the orchestral canon as well as cutting-edge works of our time. Exploring the full creative range of the contemporary symphony orchestra, the ASU Symphony Orchestra seeks to perform canonical works with technical excellence and artistry while also pushing musical boundaries through innovative multi- disciplinary collaborations.

The Molly Blank Fund Performances for Students is sponsored by Abbett Family Foundation, APS and Target.
Additional Information
Policies
Ticket prices are $3.00 per person (students/teachers/chaperones).
One (1) chaperone for every ten (10) students.
Payment can be made by sending a check/purchase order made payable to "ASU Gammage" to:
ASU Gammage CP Department
PO Box 870205
Tempe, AZ 85281
Payment can also be made by credit card by calling 480-965-3102.
Payment is due within three weeks of registration. Payment must be received no later than two weeks prior to the performance.
Once payment is processed, it cannot be adjusted or refunded.
We are not able to offer any other discounts on tickets. The cost of tickets has already been heavily subsidized by generous ASU Gammage donors
Bus reimbursements are available to schools who meet at least one of the three criteria

Title I status
50% of the student population qualifies for free or reduced lunch
Distance is greater than 20 mile radius from ASU Gammage

Performances for students is available only to K-12 students, their teachers and chaperones.
Food and drink are prohibited.