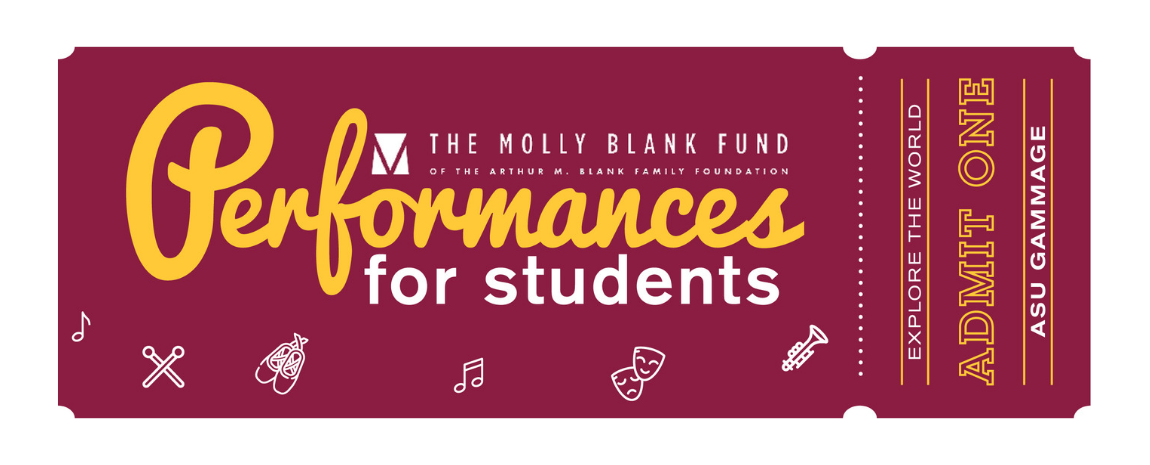 Performances for Students
The Molly Blank Fund Performances for Students
The Performances for Students Series at ASU Gammage provides K-12 students with an opportunity to see incredible artists from around the world and the opportunity for teachers to incorporate these performing arts experiences into their daily curriculum. Educational study guides are provided as part of this program to help students learn about the arts by incorporating vocabulary into their daily lessons. Additionally, students experience a variety of cultures and learn the importance of specific art forms and the impact of the arts on the surrounding world. Students learn to connect arts to every day school subjects like dance to science and music to math, all culminating in a live experience that thrills the senses and allows the imagination to come alive.
Tickets are $3.00 per student/teacher/chaperone. All performances begin at 10:30 AM and last 1 hour. 
Please plan to arrive by 9:30 or 10:00 a.m. to allow for enough time to seat all guests.
For more info, please contact cpinfo@asugammage.com or 480-727-6250.
2019-2020 Lineup
The Leela Dance Collective | Tuesday, October 15, 2019

The Leela Dance Collective
California Gharana
Tuesday, October 15, 2019
Curriculum Connections: Dance and Geography
Grades: K-12
California Gharana celebrates the living legacy of Kathak legend, Pandit Chitresh Das, offering three compelling pieces that embody his style, aesthetic and vision for the art form. Percussive feet, dynamic movement and rich music weave seamlessly together to tell the story of India – her history, struggles, spiritual discoveries, and evolution. The performing artists of California Gharana come together from around the world to create not only a compelling work of performance art but a living connection between generations and continents.
Cedric Watson | Thursday, November 21, 2019- SOLD OUT

Cedric Watson
Thursday, November 21, 2019
Curriculum Connections: Music, French and History
Grades: 3-12
SOLD OUT
One of the brightest young talents to emerge in Cajun, Creole and Zydeco (Louisiana French) music over the last decade, Cedric Watson is a four-time Grammy-nominated fiddler, singer, accordionist & songwriter. Cedric Watson resurrects the ancient sounds of the French and Spanish contra dance and bourré alongside the spiritual rhythms of the Congo tribes of West Africa. With arepertoire of songs at his fingertips, Cedric plays everything from forgotten Creole melodies and obscure Dennis McGee reels to more modern Cajun and Zydeco songs, even occasionally throwing in a bluegrass fiddle tune or an old string band number.
Las Cafeteras | Thursday, February 13, 2020

Las Cafeteras
Thursday, February 13, 2020
Curriculum Connections: Music and Spanish
Grades: 3-12
Born and raised east of Los Angeles, the six-piece Mexican-American Las Cafeteras band is remixing roots music and telling modern-day Chicano/a stories. The group creates a vibrant musical fusion with a unique East LA sound and positive message, a mix-and-match of styles and sources that deliver socially conscious lyrics in both English and Spanish. Their wildly vibrant Afro-Mexican beats, rhythms, and rhymes document stories of a community looking for love and fighting for justice in the concrete jungle of Los Angeles.
Step Afrika! | Tuesday, March 24, 2020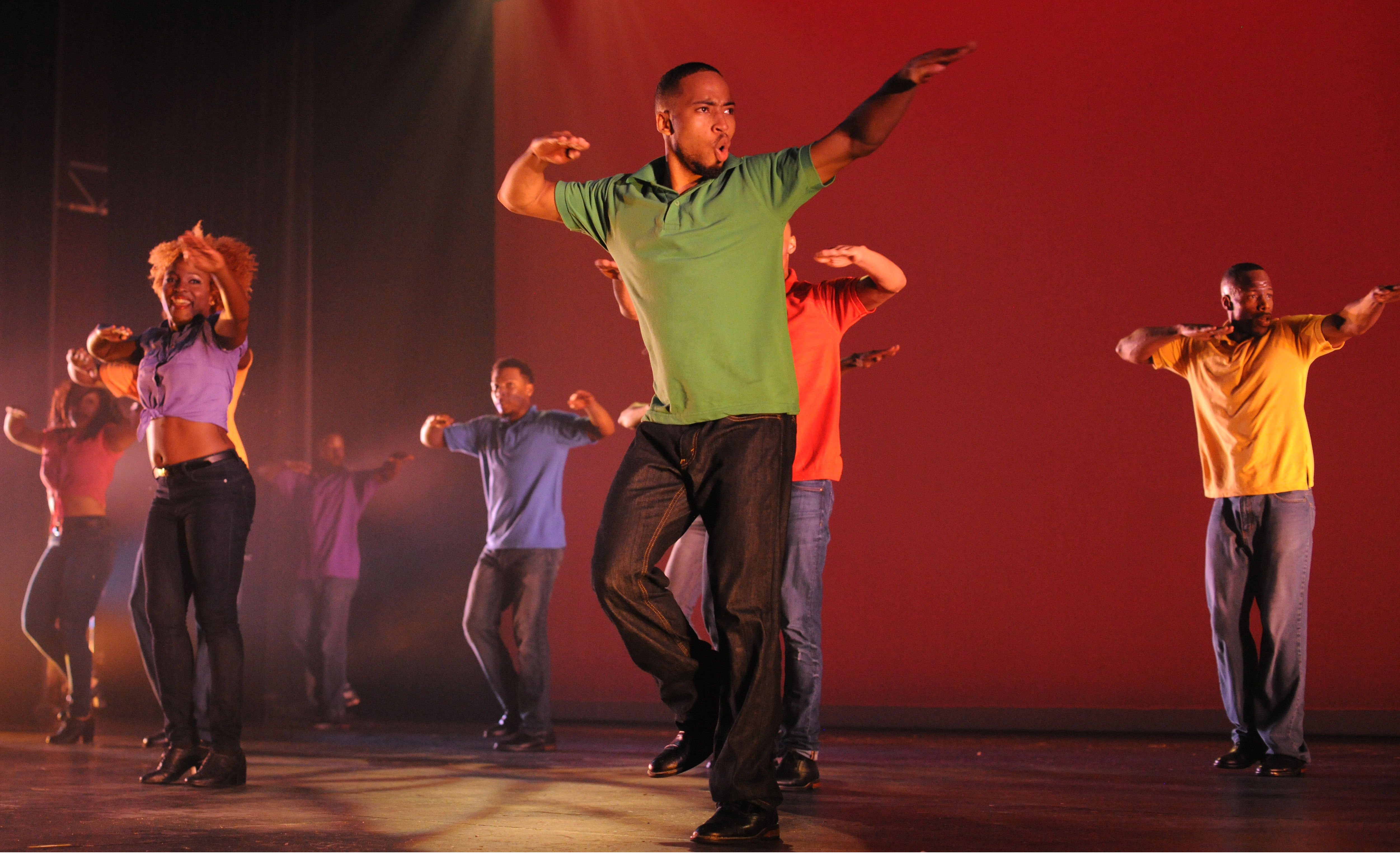 Step Afrika!
Tuesday, March 24, 2020
Curriculum Connections: Dance, Geography and Social Studies
Grades: k-12
Step Afrika! blends percussive dance styles practiced by historically African American fraternities and sororities, African traditional dance and influences from a variety of other dance forms. Founded in 1994 as the first professional company dedicated to the tradition of stepping, Step Afrika! is now one of the Top Ten African American dance companies. Performances are much more than dance shows; they integrate songs, storytelling, humor and audience participation. The blend of technique, agility and pure energy makes each performance unique and leaves the audience with their hearts pounding.
The Molly Blank Fund Performances for Students is sponsored by Abbett Family Foundation, APS and Target.
Additional Information
Policies
Ticket prices are $3.00 per person (students/teachers/chaperones).

Performances for Students is available only to K-12 students, their teachers and chaperones. One (1) chaperone for every ten (10) students.

Payment can be made by sending a check/purchase order made payable to "ASU Gammage" to:
ASU Gammage CP Department
PO Box 870205
Tempe, AZ 85281
Payment can also be made by credit card when you register online.

Payment/PO is due within four weeks of registration. Payment/PO must be received no later than two weeks prior to the performance. No refunds for cancellations within two weeks of the performance.

Once payment is processed, it cannot be adjusted or refunded.
We are not able to offer any other discounts on tickets. The cost of tickets has already been heavily subsidized by generous ASU Gammage donors
Bus reimbursements are available to schools who meet at least one of the three criteria

Title I status
50% of the student population qualifies for free or reduced lunch
Distance is greater than 20 mile radius from ASU Gammage
Please download the bus reimbursement application for further instructions.

Food and drink are prohibited.