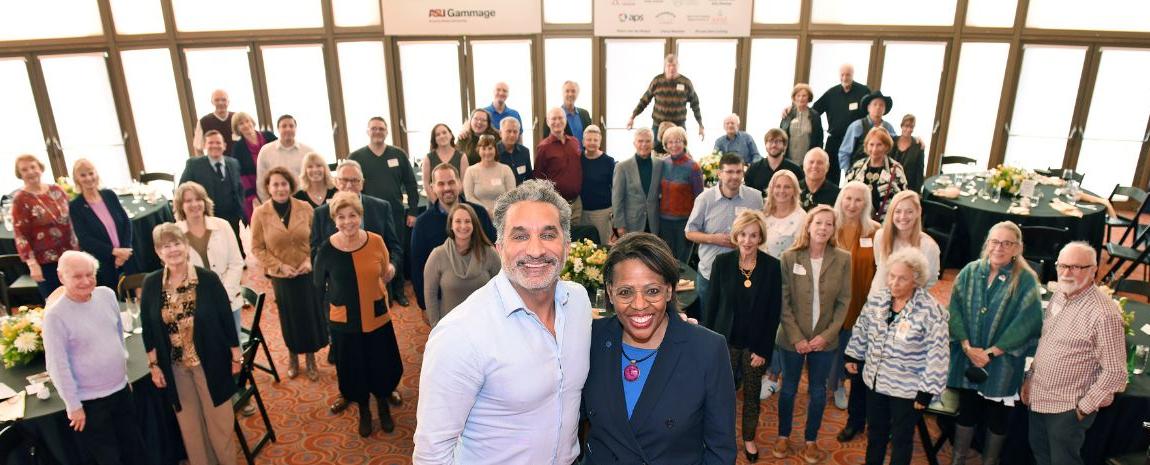 VIP Donor Club
Your support is vital as ASU Gammage prepares for a season unlike any other.
ASU Gammage VIP Donors are the lifeblood of our organization and we couldn't return to the stage without you. Your support will help us once again bring the Best of Broadway and Beyond to our community in a safe and healthy environment. Together, we are facing new challenges, but are working hard to meet the needs of our donors, patrons, staff and students as we move forward. ASU Gammage VIP Donor Club memberships also support our award-winning Cultural Participation Program, which provides critical in-school and virtual arts curriculum and theater performances for under-served schools and community support organizations.
Your contribution as an ASU Gammage VIP Donor is more vital to the overall health of our organization than it has ever been. This season is sure to be unlike any other and we can't wait to be together with you again, sharing in the joy of live theater! Read below to find out about the many different opportunities for becoming a VIP Donor!
Easy Ways to Join
1. By phone
Call 480-965-9915 
2. By Mail
Make checks payable to the ASU Foundation and mail to:
ASU Gammage VIP Donor Club
PO Box 870205
Tempe, AZ 85287-0205
3. Online
Become an ASU Gammage VIP today by donating online. You can join as a new member or renew your gift by following these simple steps:
Click one of the buttons below to be redirected to the ASU Foundation.
Enter the gift amount that matches your desired donation and then hit the "Complete Your Gift" button.
You will be redirected to a checkout page where you can complete your donation. If you have not previously created an account with the ASU Foundation, you may be prompted to do so. This is different than your ASU Gammage ticketing account.
VIP GUIDELINES: You must maintain your annual VIP contribution at or above the Directors Club level in order to enjoy VIP seating. ASU Gammage VIP subscription seating is offered in the Orchestra Level in rows 3-20. VIP benefits may be available only upon your request, at your expense (if any) and subject to availability. Benefits are effective immediately and are subject to change without notice.
Please make check payable to the ASU Foundation or charge. All funds will be deposited with the ASU Foundation, a separate non-profit organization that exists to support ASU. Your payment may be considered a charitable contribution. Please consult your tax advisor regarding the deductibility of charitable contributions. For additional information about ASU Gammage and our programs, please contact our development department at 480-965-9915.