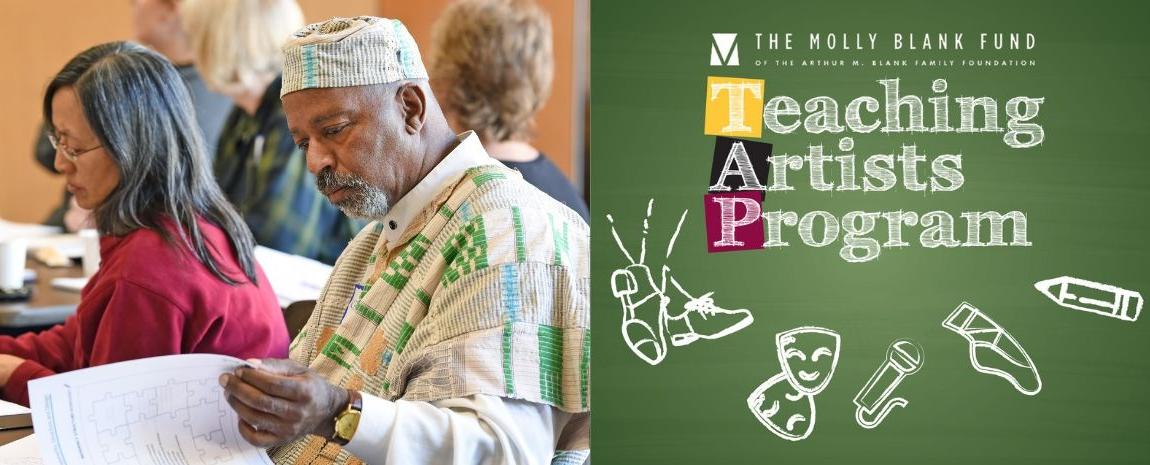 The Molly Blank Fund Teaching Artists Program
Requirements
Commit to the training dates
Mandatory Kennedy Center arts integration method training dates and times are 7:00 - 9:00 p.m. on Fri 8/21/20, and 8:30 - 5:00 p.m. on Sat 8/22/20, Thurs 10/1/20, Fri 10/2/20, and Sat 10/3/20.
Observe and participate in workshops
TAP artists will also be required to observe an arts-integrated workshop in one of the Mesa, Scottsdale, Peoria, and Paradise Valley school districts or attend a Scottsdale Center for the Performing Arts workshop. TAP artists will also be required to participate in workshops, such as AZ State Department of Education Standards (Sat 9/12/20) and Classroom Management and Marketing (Sat 1/23/21).
Implement a residency
After the October training, TAP artists will develop a residency plan incorporating arts-integrated lessons. With assistance from ASU Gammage and our partnering districts, TAP artists will implement a residency that includes three one-hour lessons over a course of three days in one of our partner schools.
IDEAL TEACHING ARTIST QUALIFICATIONS:
Professional artist background
Some classroom experience with K-12 students
Classroom management skills
Interest in arts integration
Working knowledge of the state education standards
Ability to travel to schools around the Phoenix area
Possession of a fingerprint clearance card by 8/22/20
The Molly Blank Fund Teaching Artists Program was made possible from support from our partners including: 

ASU Gammage's Molly Blank Fund Teaching Artists Program is produced in collaboration with