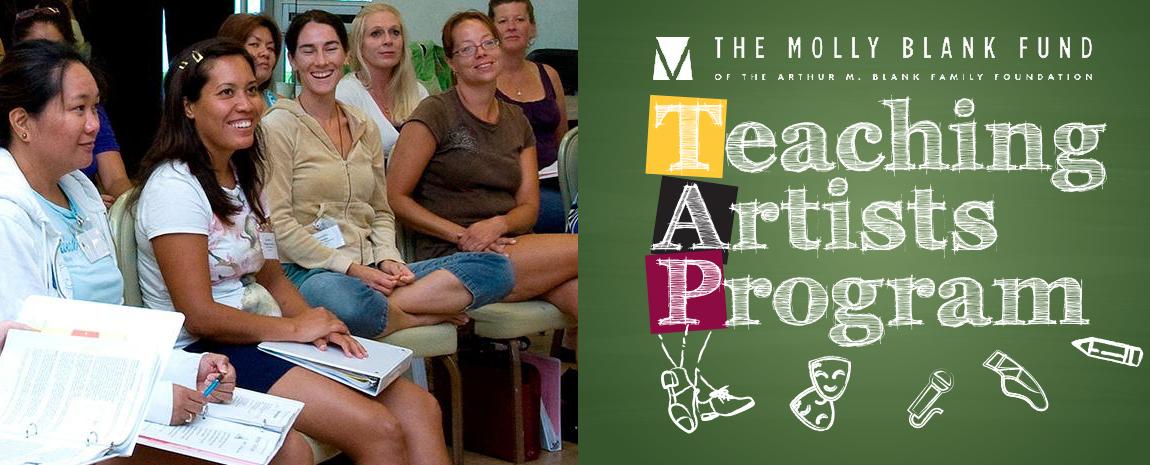 The Molly Blank Fund Teaching Artists Program
The Molly Blank Fund - ASU Gammage Teaching Artists Program (TAP) is designed to create teaching artists in the metro Phoenix area that have been trained in the Kennedy Center arts integration method. After training, these teaching artists will develop residency lesson plans that will be implemented in a classroom setting. TAP artists will also be listed on ASU Gammage's Teaching Artist Roster helping them to secure future teaching opportunities.
The program is limited to 30 - 40 local artists (both novice and experienced) who can commit to the entire program, which spans the 2019-2020 school year. Applications will be accepted on a rolling basis until the cohort has been filled with qualified applicants. Applicants will be notified of their status within a month of their application.
Download an info sheet on The Molly Blank Fund Teaching Artist Program.
More information on the Kennedy Center Arts Integration method.
TEACHING ARTIST STIPEND
TAP artists who complete the program will receive a $500 stipend. TAP artists must obtain a fingerprint clearance card by September 15, 2019, and will be reimbursed after providing receipt.
For more information, please contact us at TAP@asugammage.com.
Requirements
Commit to the training dates
Mandatory training dates and times are the evening of Fri 8/2/19, and 8:30 - 5:00 PM on Sat 8/3/19, Thu 10/3/19, Fri 10/4/19, and Sat 10/5/19.
Observe and participate in workshops
TAP artists will also be required to observe an arts-integrated workshop in one of the Mesa, Scottsdale, Peoria, and Paradise Valley school districts. TAP artists will also participate in workshops, such as AZ State Department of Education Standards, classroom management, and marketing (Dates TBD).
Implement a residency
After the October training, TAP artists will develop a residency plan with arts-integrated lesson plans. With assistance from ASU Gammage and our partnering districts, TAP artists will implement a residency in one of our partner schools.
IDEAL TEACHING ARTIST QUALIFICATIONS:
Professional artist background
Some classroom experience
Classroom management skills
Interest in arts integration
Understanding of schools and teachers
Working knowledge of the state education standards
Ability to travel to schools around the Phoenix area
Fingerprint clearance card (receipt needed for reimbursement)

ASU Gammage's Molly Blank Fund Teaching Artists Program is produced in collaboration with