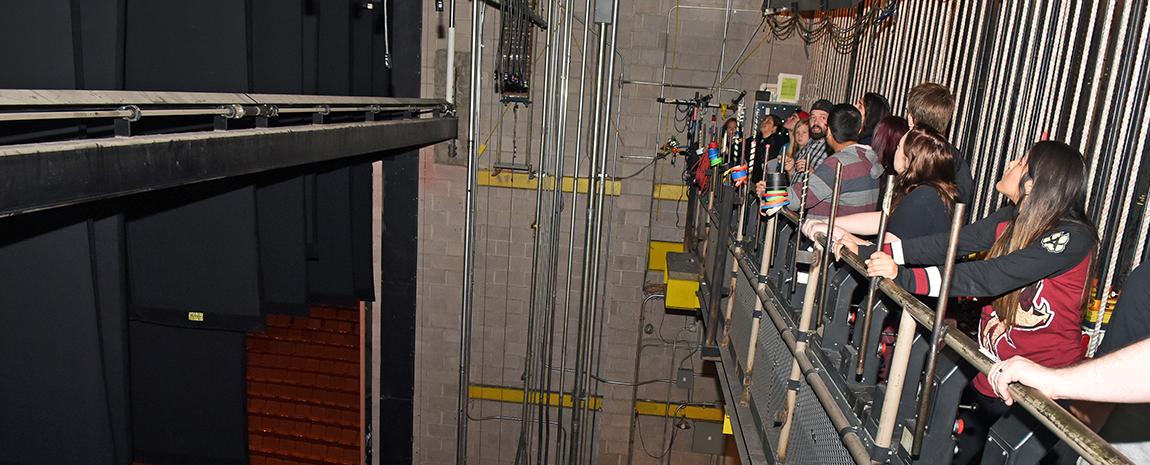 Tech Tours

Technical theater students now have a chance to experience what it is like to be a professional Technical Director at ASU Gammage. High school juniors and seniors will have the opportunity to come to ASU Gammage and meet with our Technical Directors, who will then give a top to bottom tour of our historic Frank Lloyd Wright building. On this hands-on tour, students will get a chance to go to places at ASU Gammage where not many have been, work our spotlights, curtains and much more! 
All Tech Tours for Students are Full!
Apply for Teacher Tech Tour below!
Tech Tours - Registration is closed.
Monday, September 18, 2017
Monday, November 20, 2017
Tech Tours - Registration is closed.
Monday, October 2, 2017
9:00 am - 10:00 am
11:00 am - 12:00 pm
1:00 pm - 2:00 pm
3:00 pm - 4:00 pm
Friday, December 15, 2017
9:00 am - 10:00 am
11:00 am - 12:00 pm
1:00 pm - 2:00 pm
3:00 pm - 4:00 pm
Monday, March 5, 2018
9:00 am - 10:00 am
11:00 am - 12:00 pm
1:00 pm - 2:00 pm
3:00 pm - 4:00 pm
Tuesday, March 6, 2018
9:00 am - 10:00 am
11:00 am - 12:00 pm
1:00 pm - 2:00 pm
3:00 pm - 4:00 pm
Wednesday, March 7, 2018
9:00 am - 10:00 am
11:00 am - 12:00 pm
1:00 pm - 2:00 pm
3:00 pm - 4:00 pm