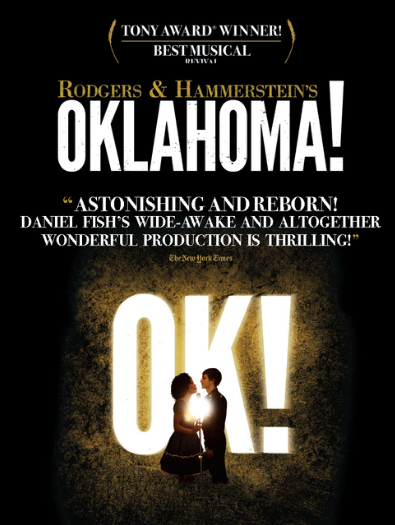 Rodgers & Hammerstein's OKLAHOMA!
"How is it that the coolest new show on Broadway is a 1943 musical?"- The New York Times.
This is OKLAHOMA! like you've never seen it before. 

The 2019 Tony-winning Best Revival of a Musical has been re-imagined by the visionary director Daniel Fish and reveals a distinctly modern subtext to the classic 1943 musical by Richard Rodgers and Oscar Hammerstein. 

Not a word of text was changed in the script, but the artistic choices employed in this production yield a new vision on a classic story.
Over 75 years after Rodgers & Hammerstein reinvented the American musical, this is OKLAHOMA! as you've never seen or heard it before – reimagined for the 21st century.
Stripped down to reveal the darker psychological truths at its core, Daniel Fish's production tells a story of a community circling its wagons against an outsider, and the frontier life that shaped America. Upending the sunny romance of a farmer and a cowpoke, this OKLAHOMA! allows the classic musical – and our country – to be seen in a whole new light.
Funny and sexy, dark and jolting, "this is the OKLAHOMA! that was there all along." (New York Magazine) The Daily Beast says "Forget your traditional idea of OKLAHOMA! Daniel Fish's daring, brilliant, utterly absorbing re-interpretation is dark and different—brilliantly so."
Series

Content Guide
This production of OKLAHOMA! is recommended for children ages 12 and up and contains fog, loud gunshot effects, moments of total darkness and violence.