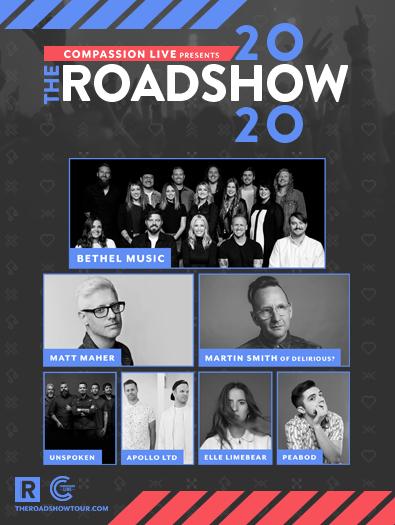 The Roadshow Tour
This event has been canceled. 
Compassion LIVE's "The Roadshow Tour" has unveiled its exciting and diverse 2020 talent line up with 16 coast to coast tour stops. Welcoming hundreds of thousands of fans to arenas for over a decade now, "The Roadshow Tour" will feature Award-winners Bethel Music, Matt Maher, Martin Smith of Delirious?, and Unspoken, as well as ApolloLTD, Peabod and Elle Limebar throughout the month of March.
"We are so excited that Bethel Music is heading up Roadshow tour next year with some amazing friends & Compassion International," said Bethel Music's Brian and Jenn Johnson in a special announcement video. "We are believing God for life changing experiences in His presence. See you out there!"
"We have loved being ambassadors for Compassion International for many years," remarked Unpsoken's Chad Mattson. "Nothing excites us more than to be a part of Roadshow 2020, and to share the stage with so many talented artists. We know that God is going to use these nights in order to build His kingdom; not only here in the USA, but all around the world."
Group ticket pricing available by calling 480-965-6678
VIP ADD ON available by calling 480-965-3434