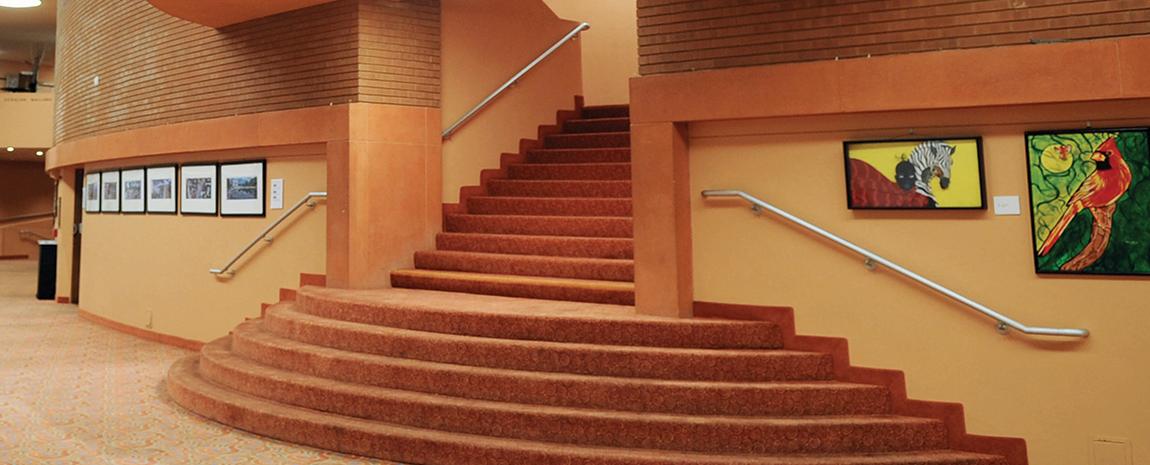 Galleries
The art isn't just on stage - it's in our lobby galleries, too.
Throughout the season, ASU Gammage exhibits visual arts in its three lobby galleries.
Viewing Hours
Monday: 1 p.m. to 4 p.m. or by appointment by calling 480.965.6912 or 480.965.0458.
Closed weekends and evenings.
Please note: It is advisable to call the day of attendance to ensure viewing hours since they are subject to cancellation without notice due to rehearsals, event set-up, performances, special events and holidays.  
Parking
Visitor parking is available at parking meters around the perimeter of ASU Gammage.  
Entrance
East Lobby Doors – Box Office Location. Please ask for assistance at the Box Office when you arrive.
Current Exhibition
Gina Santi Photography
The exhibit will run from Feb. 5 through April 13.
The exhibits will be available for viewing Mondays 1 p.m. to 4 p.m. Due to rehearsals, event set-up, performances, special events and holidays, it is advised to call 480-965-6912 or 480-965-0458 to ensure viewing hours, since they are subject to cancellation without notice.
About Gina Santi Photography
Gina Santi was born and raised in Caracas, Venezuela. She graduated in Industrial Relations from the Universidad Católica Andrés Bello, Caracas. She studied photography at the Universidad Santa María, Caracas, obtained her MBA from the Catholic University of America in Washington, D.C. and continued her photography training at the Washington, D.C. School of Photography. She earned her Education degree and her M.A. in Cultural Anthropology from Northern Arizona University. She has taught Spanish and Anthropology at the university level since 1991, and in her capacity as an educator and administrator she has worked, lived in, and traveled in many countries, especially those where Spanish is the official language. She has held solo and collective exhibits in the United States and abroad. Gina is an associate photographer at TEOE – Through Each Other's Eyes, a member of the American Anthropological Association, and a member of the American Society for Visual Anthropology.
About this exhibit

Nepal is synonymous with trekking the Himalayas, but its chaotic, striking, and welcoming cities also have distinct uniqueness: the streets are narrow, dusty, and crowded, and the traffic of people, motorbikes, and tuk-tuks is exacerbated by an occasional sacred cow blocking the way. The cities are a hotchpotch of temples and stupas crammed with pilgrims from all over the world, Hindus and Buddhists and Atheists walk together alongside the streets under flapping prayer flags, and unhurried backpackers relax watching people go by in the many hidden squares of Kathmandu, Patan, Bhaktapur, or Pokhara. With such an intense and tightly interlaced fusion of cultures dating back thousands of years, Nepal is known as the land of a thousand temples.
Visitors might come to Nepal for the scenery and the trekking, but one of the most prevailing memories they will have will be the intrinsic openness of the local people. Indeed, there is no doubt that Nepali people live up to their reputation for being warm, inviting and helpful.
The exhibit is comprised of 20 images depicting various aspects of life in Nepal. Most images will be approximately 16"x24" in size and presented in white aluminum frames measuring 28" x 22".

Photograph by Gina Santi